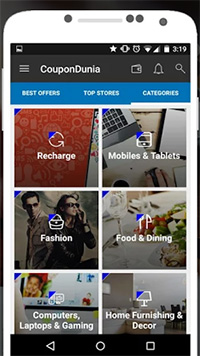 Mumbai-based CouponDunia Media Pvt. Ltd, which runs online coupon service CouponDunia.in, has revamped its business model and will now focus on the cashback business as it looks to retain customers looking for the best deal online.
"Cashback is a better product offering for the consumer. We believe this model will allow us to make as much money as we did because our volumes will go up and yet consumers will save more money," said Sameer Parwani, who founded the coupons site in 2010.
Parwani, who sold a majority stake in the company to Times Internet Ltd in May 2014, said the coupon business faced the challenge of increasing the brand loyalty of consumers and differentiate its product offerings.
"The offers that are distributed from the retailers are sent to all of our competitor sites. We do have a lot of exclusive offers but the differentiating factor becomes less. We think with cashback we will build a lot of loyalty with our consumers. I don't think I'll say I saw any weakness with the coupon business but I saw there is significantly more loyalty in the cashback business," he said, adding that the website will continue to host coupons.
The company competes with the likes of Rocket Internet-backed CupoNation, Cashkaro.com, Lafalafa.com, GoPaisa.com and Couponraja in the coupons and cashback business.
The switch toward the cashback business marks the second significant change in business strategy by the company since early 2015 when it rolled back its international operations to focus on the Indian market. The company had earlier launched separate local language sites in Turkey, Poland, Brazil and Indonesia.
Parwani said the company had been thinking of starting the cashback business for the past few months. The company had also launched a cashback website named Goswag.com a few months ago to understand the nuisances of the cashback business. The company, which works with 2,000 online retailers, clocked gross merchandise value of Rs 1,000 crore for its partners last year and expects to grow GMV four-fold this year as the cashback business expands.
But Parwani also understands that the cashback segment in the country is nascent. "Indians are not aware what cashback is and it is up to us to educate the market about it and convince people that it is the best value proposition for online shopping. We need to explain to them properly, we need to advertise, we need to get the word out about how it works and how easy it is," he said. "I think once it happens it will grow really quickly."
---