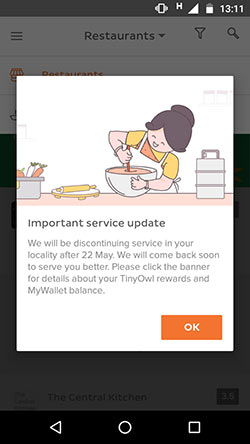 TinyOwl has finally pulled down the shutters on its food ordering business after struggling to restructure it for several months. It is likely to come back as a full-service delivery app.
The food ordering app, which in November last year saw several sacked employees in Pune holding co-founder Gaurav Choudhary hostage over their severance package, has reportedly shut down its operations in 17 cities except some areas of Mumbai.
The development was first reported by Medianama.
Users in several cities, where TinyOwl operates, received a service update from the firm saying, "We will be discontinuing service in your locality after 22 May". "We will come back soon to serve you better," the message added.
Techcircle confirmed that users in Mumbai and Bangalore were receiving this message.
Medianama reported that the update was visible from Pune as well.
TinyOwl Technology Pvt Ltd, which runs the app, facilitates customers to place orders from restaurants in Delhi, Mumbai, Bangalore, Chennai, Jaipur, Nagpur, Ahmedabad, Hyderabad, Chandigarh, Thane, Pune, Faridabad, Noida, Ghaziabad, Navi Mumbai, Gurgaon and Lucknow, according to its website.
Queries sent to TinyOwl did not elicit a response at the time of filing this report.
Meanwhile, Mint quoted co-founder Harshvardan Mandad as saying the move was part of a rebranding exercise as it is looking to relaunch the app as a full-service delivery app.
Earlier this month, it was reported that TinyOwl was likely to merge with hyperlocal on-demand logistics startup Roadrunnr in an all-stock deal. The merger will lead to establishment of a new entity Runnr, which will compete with Swiggy and Zomato Order.
The new product is likely to be launched by the end of May. This is the first consolidation in the hyperlocal delivery space and the merger is a sign that the Indian startup ecosystem is heading towards maturity.
TinyOwl would relaunch operations in Bangalore and Mumbai in two to three months under the new brand name, followed by Delhi and Pune by the end of the year, Mint reported.
In November 2015, TinyOwl was in the news for laying off 112 employees in its Chennai, Pune, Hyderabad and Delhi offices.
While employees in Chennai, Hyderabad and Delhi agreed to take post-dated cheques and quit, those in the Pune centre demanded a full and final settlement. This led to a hostage-like situation for TinyOwl's co-founder Gaurav Choudhary and another colleague). The employees were upset that the layoffs were announced after the firm raised $7.5 million (Rs 50 crore) in fresh funding from existing investors Sequoia Capital and Matrix Partner in October 2015.
TinyOwl had begun its restructuring activity in September 2015 by cutting over 100 jobs across its Mumbai and Pune offices.
The layoffs occurred as a move to cut costs that resulted from the heavy discounts the startup was offering to lure customers, which led to significant cash burn.
The online food ordering business in India is estimated to be worth around Rs 5,000-6,000 crore, growing at about 30% month-on-month, according to a report by India Brand Equity Foundation. However, this segment is transaction-driven and margins are wafer thin.
Like this report? Sign up for our daily newsletter to get our top reports.
---