Fin-tech startup uTrade rolls out blockchain powered solution for stock exchanges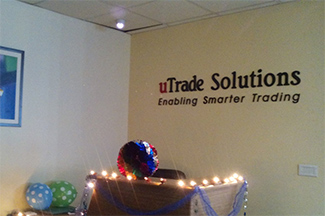 Chandigarh-based fin-tech startup uTrade Solutions Pvt. Ltd has launched a blockchain powered solution that enables real-time clearing and settlement of contracts across the cash and derivatives segments of the financial markets.
Called uClear, the solution will enable exchanges and trading venues to clear trades post execution with greater efficiency through a private blockchain.
Blockchain is a shared, secured and public ledger system where multiple users independently verify ledger changes. It is a sequential transaction database that is crowd managed as every transaction is bunched into a block, validated with timestamps and stored using strong cryptography.

"Adoption of such technologies (blockchain) may take a few years due to regulations, legacy infrastructure replacement challenges and unwillingness to accept transparency. However, transparency is the most discernable benefit of the blockchain distributed ledger as transactions can be cryptographically proved," said Kunal Nandwani, co-founder and CEO, uTrade Solutions, in a statement.
UK-based Global Markets Exchange Group (GMEX Group), an exchange technology provider and operator of cost-effective electronic exchanges across multiple asset classes in developing and developed markets, will be the first to integrate uClear next month through its subsidiary GMEX Technologies (GMEX Tech).
"We are exploring a hybrid model where we support existing workflows across our exchange, clearing house, depository and warehouse receipts product suite and introduce optional new parallel blockchain driven clearing mechanisms too," said Hirander Misra, CEO, GMEX Group and chairman of Forum Trading Solutions.

Built on a blockchain technology called multichain, the solution comes integrated with features such as real time risk management, reporting and transfer instruction generation. The first stage of adoption will be led by the over-the-counter (OTC) segments without central clearing infrastructure such as foreign exchange (FX) and the fixed income securities markets.
Nasdaq was the first stock exchange to successfully record a private securities transaction using its blockchain technology platform - NASDAQ Linq – in December 2015. Nasdaq's Tallinn Stock Exchange, Estonia's only regulated securities market and Australia's biggest stock exchange ASX are some of the other stock exchanges which have been leveraging blockchain for purposes ranging from e-voting to offering post-trade solutions.
The fin-tech startup was founded in 2010 by Kunal Nandwani along with Mayank Mathur, Ashish Grover and Harwinder Sidhu. A former Lehman Brothers associate, Nandwani has significant experience in trading. Mathur has worked with companies such as Citi Group and Morgan Stanley, bringing in the valuation skills, while Grover and Sidhu have earlier built enterprise software.

It offers a technology-based trading platform, algo-trading, analytics and customisation, and has clients such as the Bombay Stock Exchange and Marex Spectron UK besides GMEX. It had raised $400,000 in seed funding from Hong Kong-based Axis Capital in March 2012.
Like this report? Sign up for our daily newsletter to get our top reports.
---