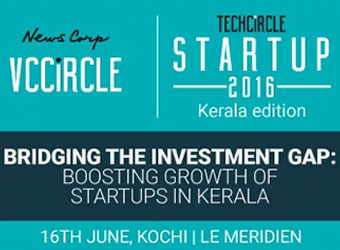 A dearth of local investor support was one of the resounding concerns voiced by the emerging entrepreneur community at the Kerala edition of Techcircle Startup 2016 held in Kochi on Thursday. To their surprise, the noted investment professionals at the event advised them to just forget that fact that they are in Kerala and target investors outside the state.
Participating in a discussion on 'creating the right investment environment for Kerala, Samir Kumar, managing director of Inventus Capital Partners, said, "You don't really have to target only local investors. Reach out to angel networks like Indian Angel Network, Mumbai Angels, etc which are outside Kerala. The Bangalore ecosystem faced similar crisis and they successfully turned the city into a favourable investment destination by first attracting investors from outside,".
Pradeep Tagare, investment director at Intel Capital, said the best way to attract local angels and HNIs is to first create an investment-friendly atmosphere by attracting outside money first.
Jayasankar Prasad, CEO of Kerala Startup Mission, advised startups to work on sellable and scalable models so that they can graduate out of incubators faster.
"Entrepreneurs should have a plan to face the real world. They should not expect all the help and support to come to them," he said.
Entrepreneurs also demanded that government and startup mission should educate young entrepreneurs in the ecosystem on fundraising while investors demanded policy makers facilitate involvement and outreach to industry experts.
Participating in a discussion on the agriculture sector, Abhilash Thirupathy, director, Gold Farm, said agriculture is going to be the largest industry in three-four years. "The biggest concern in the agro sector is recruitment as it requires a lot of field work. The number of people investing in agriculture as an investment opportunity is low. Therefore, entrepreneurs should explore alternative investment opportunities like government/state funds and other grants offered by international agencies like USAID and Asian Development Bank, etc."
'You can build a world-class firm in Kerala'
Taking part in a discussion on 'starting up in Kerala', C Balagopal, entrepreneur, author and mentor, said, "Get rid of the notion that you cannot do business in Kerala. You can build a world-class company in Kerala; I have done that," he said. Balagopal, a former IAS officer, founded Peninsula Polymers, which became the largest blood bag manufacturer globally. The company was later sold to its Japanese partner, Terumo. He said the near equal distribution of urbanisation across the state makes Kerala one of the best places to do business in India.
He demanded entrepreneurs to join various industry bodies to share knowledge and build the right sort of network.
Giving a keynote address, M Sivasankar, IAS, principal sectary, chairman (EC) of Kerala State IT Mission, said the state has perhaps lost about 3,000 potential startup ideas because there was no system in place to identify them.
However, he said the state has been aggressively working on creating a healthy startup ecosystem to attract the abundance of talent in the state. "The majority of families in Kerala are well settled in terms of social security. Therefore, the time is right as most parents today are well positioned and willing to allow their kids to take entrepreneurial risks," he said, adding, "The ecosystem is in place. The focus should now be on being competitive." He said Techcircle's arrival to Kerala is a validation of the strengthening startup ecosystem in the state.
Rajesh Nair, director, head - Kochi location, E&Y, and president of TiEGlobal's Kerala chapter, said the state is going through its golden age period of entrepreneurship as society has matured enough to build better social awareness and acceptance for entrepreneurship.
Ranjith Menon, executive director of IDG Ventures, said Kerala's startup ecosystem is at an early stage that entrepreneurs' awareness and investors' perspectives need to further grow.
Intel Capital's Tagare said the company wants to invest in hardware startups, but is finding it hard to identify smart hardware products.
Sindhu Joseph, CEO and co-founder of CogniCor Technologies, said presence of multinational companies in Kerala can greatly help the ecosystem grow further. "It would be great if companies like Google and Microsoft are here so that more people from across India consider moving here and settling down here. Such diverse population would help create a better entrepreneurial culture here," she said.
Talking about market fit and pivot, Sumit Jain, Partner at Kalaari Capital, said the timing of a business idea is one of the most important things in product market fit. "Effectively reading market signals to understand the need for a change and pivoting to leverage on the positive signals is also part of the journey. We have a positive attitude to such moves," he said.
Over 250 entrepreneurs and investors as well as 28 speakers attended the summit.
Like this report? Sign up for our daily newsletter to get our top reports.
---