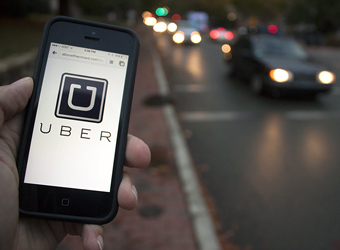 Uber riders will no longer have to deal with lightning bolt denoting surge pricing while booking a cab as the San Francisco-based cab aggregator has decided to present users with upfront fares, it said in a blog post.
"Upfront fares are calculated using the expected time and distance of the trip and local traffic, as well as how many riders and nearby drivers are using Uber at that moment. And when fares go up due to increased demand, instead of surge lightning bolts and pop-up screens, riders are given the actual fare before they request their ride," Uber product managers Arundhati Singh and Dennis Zhao said in the blog post.
It has introduced upfront fares for UberX and UberGo categories in India. Until now, this feature was available for only users of the UberPool offering. Upfront fares will be introduced to UberXL (the SUV category ) too soon.
"We started testing upfront fares in the US in April, while we rolled out the same in five Indian cities—New Delhi, Kolkata, Mumbai, Hyderabad and Chennai—earlier this month. We plan to roll it out across more than 400 cities around the world," Ruchica Tomar, spokesperson for Uber India, said in an e-mail response to Techcircle.in.
The upfront fares are also seen as another way of bringing in a surge pricing mechanism into the tariff calculation. "The upfront fares factor in expected time of ride, distance, traffic, surge and tolls. But instead of showing surge multipliers like 2x, it will show the exact amount," said a person familiar with the development, requesting anonymity.
Surge pricing mechanism has been a bone of contention between the government and cab aggregators like Uber and Ola, due to the absence of clear guidelines and a regulatory architecture.
In April, the Delhi government had cracked down on surge pricing and decided to ban on the same. However, an NDTV report in May said that Uber has brought back surge pricing. Weeks later, Uber finally dropped surge pricing and decided to comply with the fare capping mechanism.
In Karnataka, Uber is awaiting a court decision on a petition filed by drivers affiliated to Ola and Uber against the government's crackdown measures. The Karnataka High Court has directed transport authorities against impounding cabs until a decision is arrived.
Uber has applied for a licence complying with the Karnataka government's On-Demand Transportation Technology Rule where cab aggregators have to maintain a fleet of at least 100 taxis either through ownership or through an agreement with individual taxi permit holders. They should also ensure facilities to monitor the movement of taxis with the help of GPS and GPRS along with a control room facility and display boards inside the taxis containing vehicle permits and the driver's details such as photograph, name, driving licence and ID card issued by the police department.
Earlier this month, Techcircle had reported that Uber faced a roadblock after Karnataka transport authorities refused to accept its application.
While the move to apply for a licence is an indicator that Uber is ready to comply, it has maintained that capping of fares and doing away with surge pricing are arbitrary and unconstitutional.
Like this report? Sign up for our daily newsletter to get our top reports.
---