Guess which country, outside of the US, Australia and New Zealand, has seen the maximum number of Pokemon Go downloads ever since the augmented reality app was launched on July 6?
According to analytics company SimilarWeb, it is India, after Brazil, that has seen the largest downloads of the game from the file hosting website APKMirror (see graph). This is when the game has yet to be launched in these countries.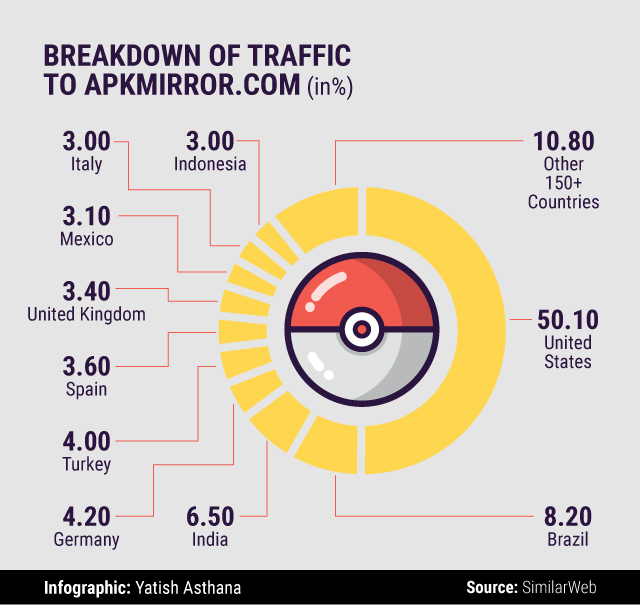 Played on smartphones, the game was officially released in the US, Australia and New Zealand earlier this month and has busted several records globally ever since. It, for instance, surpassed 'porn' as the most searched term on Google.
According to enterprise social media platform Spredfast, in the first week of its launch, there were about 15.3 million tweets about Pokémon worldwide. This is more than 11.7 million for Brexit in the week of the referendum in the UK.
Here are some other interesting facets about Pokemon Go.
1. Since July 6, shares of Nintendo have risen more than 121% adding about $37 billion to its market cap. The Japanese company is now worth $42.5 billion and has surpassed its peer Sony that has a market cap of about $40 billion.
2. The game-maker traded $4.5 billion (476 billion yen) worth of shares last Friday, the biggest daily turnover for any company in the Topix index this century.
3. Pokémon Go is on its way to become the first mobile game to earn more than $4 billion in revenues from downloads beating hitherto most popular mobile games Candy Crush Saga and Clash of Clans, according to Macquarie Research.
4. SimilarWeb reported that Pokémon Go ruled over Twitter with the highest number of active users in days following its launch.
3. It was already installed on 5.16% of all Android devices in the US by July 11, a number which has most likely grown in the last few days. This also means that the game has been downloaded on a larger number of Android phones than the most popular dating app Tinder in the country.
4. Pokémon Go has beaten both Candy Crush Saga (8.7%) and Clash of Clans (5.2%) on current installs in less than a week since the app's release in the US.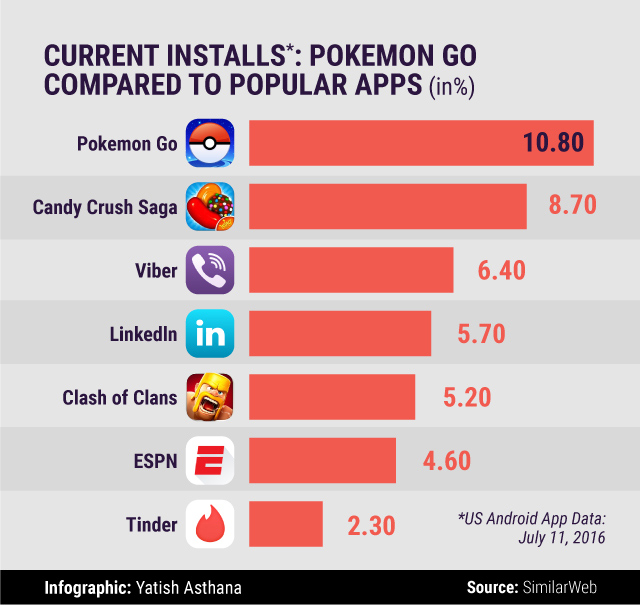 5. According to reports, on average, fans are spending more than 40 minutes a day on Pokémon Go, which is more than WhatsApp, Instagram or Snapchat.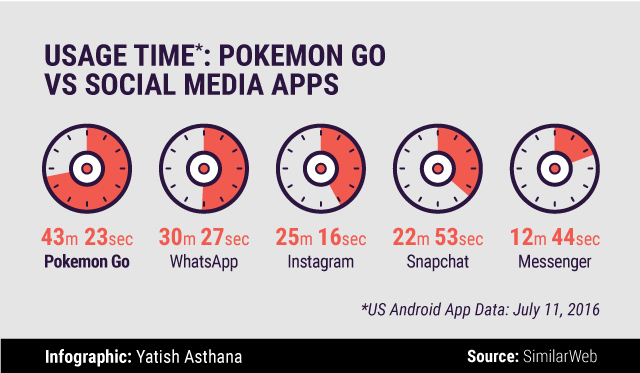 ---