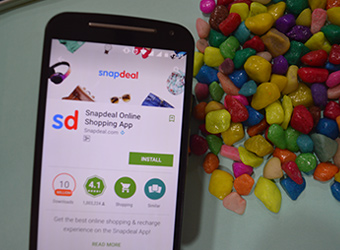 E-commerce marketplace Snapdeal has opened six logistics centres to ramp up its delivery infrastructure and help sellers manage orders and inventory.
The new centres will add an additional one million square feet to its warehousing infrastructure, Snapdeal said in a statement.
The move comes barely a month after Snapdeal's bigger rival, Amazon, said it would open six warehouses to take the total to 27.
The two companies are ramping up their logistics and warehousing capability to gear up for the festival season, which begins in October, when consumer demand typically jumps. In recent years, e-commerce companies launched special events to boost sales during the festive season but faced glitches as they failed to meet the surge in demand.
Snapdeal said the new hubs in Delhi-NCR, Lucknow, Hyderabad and Kolkata will combine warehousing, quality control and transportation under a single roof.
The company expects the move to help reduce costs for sellers and improve visibility and inventory control. Sellers who stock at these centres benefit from Snapdeal's services in managing inventory, packaging and tracking orders in transit.
"The new warehouses are located in cities where demand is growing exponentially and will allow our sellers to hold inventory closer to their customers," said Jayant Sood, chief customer experience officer at Snapdeal.
The new hubs will be owned by Vulcan Express Pvt. Ltd, a wholly subsidiary of Snapdeal that offers end-to-end logistics and supply chain solutions for retail companies in India. Vulcan will now have 10 warehouses. Overall, Snapdeal will have 69 fulfillment centres, including those run by third-party logistics partners.
Snapdeal has lately been introducing a lot of new features as part of efforts to improve customer experience, which has become the new business mantra for e-tailers.
Last week, Snapdeal launched an in-app integration feature that will allow its users to hail an Uber cab from its mobile app without having to download and install the Uber app.
Earlier in July, it launched a range of services including flight and bus ticket bookings, hotel reservations and food ordering, making it the first e-commerce marketplace to introduce such services on its platform.
The same month, Snapdeal reduced the marketing fee charged from sellers for over 120 categories while marginally increasing the fee for over 30 categories including digital products, electronics, women's fashion, FMCG products, sports and fitness, fashion jewelry, kitchen appliances and automotive accessories.
This article has been modified to update the information related to Snapdeal's total number of warehouses.
Like this report? Sign up for our daily newsletter to get our top reports.
---