Instagram launches a replica of Snapchat "Stories"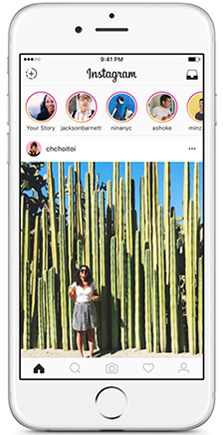 Instagram, the photo sharing app owned by Facebook, has taken a leaf out of rival Snapchat's book and launched a feature which allows users to tell stories of their day by posting pictures and videos that disappear in 24 hours.
The feature, called "Instagram Stories", allows users to share as many pictures and videos as they want, and these can further be enhanced with text and graphics, the photo sharing app has announced in a blogpost. The feature will be rolled out for Android and iOS platforms in the next few weeks.
The new Instagram feature, curiously, has various similarities with Snapchat's "Storie" feature which alongside the basic concept of allowing users to share their stories of the day through pictures and videos, also limits the length of the videos to 10 seconds.

Facebook had bought Instagram for $1 billion in 2012.
This, incidentally, isn't the first time Facebook has tried to copy Snapchat. In 2013, Facebook, following in its rival's footsteps, had launched a feature called "Poke" where users could send time-bound photos and videos to their followers. However, the feature was shut down in 2014.
The same year, following yet another initiative of Snapchat's Instagram launched a feature called "Instagram Direct" where users could send photos directly to select users.

It also launched Facebook Slingshot, an app for sharing photos and videos with friends, which was pulled down from the app store within a year of its launch. In an interaction with TechCrunch, Instagram's CEO Kevin Systrom admitted to copying the feature from Snapchat.
"When you are an innovator, that's awesome. Just like Instagram deserves all the credit for bringing filters to the forefront. This isn't about who invented something. This is about a format, and how you take it to a network and put your own spin on it," said Systrom.

He also mentioned that the company is not looking at monetizing the feature yet, though Instagram feeds already have advertising. In the case of Snapchat, the company's revenue sources include sponsored geo-filters and ads within stories.
Snapchat was founded in 2011 by Stanford University students Evan Spiegel, Bobby Murphy and Reggie Brown. The company had shot to fame after it reportedly refused a $3 billion acquisition offer from Facebook.
Snapchat has a daily active user-base of around 700 million, while Instagram trails behind at 300 million. Its stories format is used for news dissemination as well. The company is currently valued at $19 billion.

Like this report? Sign up for our daily newsletter to get our top reports.
---