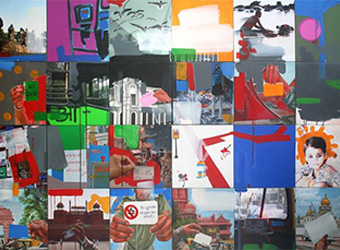 NDTV's e-commerce marketplace for art discovery Mojarto.com has raised Rs 3 crore ($445,000) in its first round of funding from undisclosed investors. The funding came through NDTV's subsidiary OnArt Quest Ltd.
Founded by Manisha Lath Gupta along with Tara Roy in December 2015, Mojarto is an art discovery and buying platform that curates a collection of proprietary artwork and collectibles from galleries, artists, brands, stores and designers.
Mojarto claims to be the first in India to launch an organised platform for both buyers and sellers.
OnArt Quest received investment by way of equity share capital in June, the company said in a BSE filing.
The startup has partnered with more than 55 galleries, around 35 brands and over 1,500 independent artists, and features a collection of more than 10,000 original and 5,000 digital works on its platform.
The site also has about 1,000 jewellery and merchandised pieces for first-time collectors.
The website offers a range of products comprising original art pieces, digital prints as well as exclusive work available in auctions at accessible prices.
Media firm NDTV which runs NDTV 24X7, NDTV Profit, NDTV India and NDTV Good Times channels, on Friday reported that its revenues from television and media related operations during the quarter ended June 30 was down 4.26% to Rs 111.78 crore compared with Rs 116.76 crore in the year-ago quarter. The company's retail/e-commerce revenues were down to Rs 2 crore in Q1 FY2016-17 against Rs 5.77 crore.
The broadcaster runs five other online businesses under unit NDTV Convergence Ltd. These are apparel and accessories site IndianRoots, auto portal CarAndBike, gadgets marketplace Gadgets 360°, wedding preparations portal BandBaajaa and food site SmartCooky.
NDTV first ventured into the e-commerce segment in 2013 with the launch of IndianRoots. In April last year, the company said IndiaRoots raised $5 million in a Series A round of funding that valued it around $85 million. It also raised funding for the other four businesses between August and December at a total valuation of about $112 million (Rs 746 crore).
Earlier this year Smartcooky, an e-commerce marketplace for health foods and personal care products, received an undisclosed amount in funding from Vandana Luthra, founder of health and wellness firm VLCC Health Care Ltd.
Like this report? Sign up for our daily newsletter to get our top reports.
---