Uber launches web interface for customers wary of downloading apps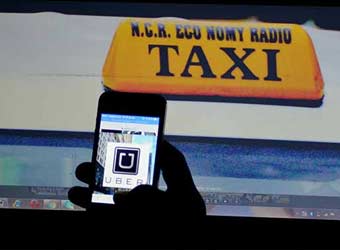 In a move that signifies that the app-only model of consumer-facing internet companies may be limiting their reach and use, cab hailing company Uber has launched a web interface, dial.uber.com, which allows users to book a cab directly from their smartphone without downloading the app.
For now, the service has been launched in Nagpur, Kochi, Guwahati and Jodhpur and will allow users to pay using cash, said a media statement issued by the company.
Uber's new announcement signifies a strategic change in the company's India plans. Uber's biggest competitor in India, Ola allowed customers to book cabs through web until June last year before it decided to morph into an app-only player across the 100 cities it operates in. What prompted Ola to turn into an app-only platform was the fact it was getting 99% of its cab requests through its mobile app only, the company said.

Incidentally, the new announcement also comes within days of Uber exiting China by selling its business to local rival Didi Chuxing, thereby, underscoring the fact that Uber might now turn to India with a renewed focus.
As for the web-based service, the first-time users will have to create an account using Uber credentials after which they can view the pricing information, fare estimates and request for an UberGo with a single tap. Once a user has requested for a cab, the company will connect the user with the driver over a phone call to co-ordinate pickup.
By launching the service first in the second-tier cities, Uber seems to be casting its net wide to catch new customers who may not have smart phones or those who find downloading apps tedious or intrusive.

The web interface comes after Uber announced an arrangement with e-commerce company Snapdeal  last month, under which it allowed customers to book a cab using the Snapdeal Android app. The arrangement, again, exempted users from the tiring process of downloading the Uber app to avail of its services.
Uber and Ola are locked in an intense fight for marketshare in India and the two companies have been devising ways of wooing more and more customers to their platforms and expand their footprint in the market.
Ola operates several more categories in comparison with Uber. For instance, it offers a high-end service called Ola Luxury, and a long-duration rental service that allows customers to book cabs for longer periods of time. It also offers auto and e-rickshaw services.

Like this report? Sign up for our daily newsletter to get our top reports.
---