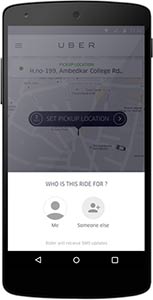 San Francisco-based cab hailing app Uber has unveiled a new feature 'Request a ride for others' which enables users to book a cab for others.
Even prior to the launch of the feature, users could indirectly book a cab for others by changing their GPS settings. However, the update makes the process much more direct and easier.
"Often people who need reliable rides the most, such as the elderly, don't have smartphones or have never downloaded an app. This empowers current Uber users across all cities in India to book a ride on behalf of their family and friends, so more people can get access to reliable transportation," Uber said in a statement. To avail the new feature, users have to enter their pin or key in the pickup location of the intended traveler, who can be chosen from recently used contacts, contact list or by even entering a new phone number. Post confirmation, the user can select an option where they can pay for the ride or pass it on to the rider, who can pay by cash.
After sending the request, the rider will get two SMSes with driver/car information and a link to track the ride himself/herself. The driver is supplied with the rider's phone number and the trip can be tracked from within the app.
The update comes close on the heels of yet another feature launched by Uber wherein users can book a cab directly from their smartphone without downloading the app through its web interface, dial.uber.com. For now, the service has been launched in Nagpur, Kochi, Guwahati and Jodhpur and will allow users to pay by cash.
"These India-first innovations are testament to Uber's focus on using its technological prowess to make mobility reliable and accessible for everyone," said Apurva Dalal, head of engineering at Uber India.
The launch of these new features comes even as Uber and Ola continue to be locked in an intense battle to capture the lucrative Indian urban commutation market. India is a key market for Uber especially after it conceded defeat to rival Didi Chuxing in China by merging its operations with the latter last month.
Ola, Uber's biggest competitor in India, allowed customers to book cabs through web until June last year before it decided to morph into an app-only player across the 100 cities it operates in. What prompted Ola to turn into an app-only platform was the fact that it was getting 99% of its cab requests through its mobile app only, the company earlier told Techcircle.
Like this report? Sign up for our daily newsletter to get our top reports.
---