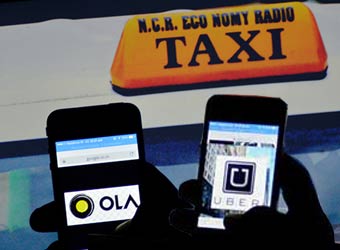 That everything is fair in love and war holds true for technology sector. Google, the US-based search giant, is entering ride-sharing services, said a report by WSJ. Incidentally, Google happens to be a stakeholder in Uber, the world's largest cab hailing company, and its new project will clearly be posing competition to Uber.
The WSJ report said that Google has started a pilot programme using Waze - the app it had acquired in 2013- which offers real time driving directions to commuters. Using the app, Google is helping individuals working in few firms around the California headquarters of Google to connect with fellow commuters. The report also said the service, launched in May, will soon be available to all commuters in the San Francisco area.
In the startup world, the co-existence of co-operation and competition is just becoming the new normal. Many analysts say Google's entry into the ride sharing space may concern Uber, especially because of the mapping prowess the search giant possesses. Google had invested $258 million in Uber in 2013 but the duo is now competing on some fronts. Uber, for instance, is now developing its own maps to limit is dependence on Google.
But what does the new development mean for the India market where Uber is locked in an intense fight with home-grown startup Ola? Can enemy's enemy be seen as a friend? Can Google's new project hurt Uber and hence, make it less fearsome a contender for Ola?
"Everybody is investing in everyone else. Overall, it can be seen as a cross network. Google was always bullish about transportation. That is why they had invested in Uber. But it remains to be seen if Google continues to be excited in this space," says an industry insider who has held a senior position at a cab-hailing company.
Ola is backed by Chinese cab-hailing major Didi Chuxing, which had invested around $30 million in the homegrown cab aggregator in 2015. Didi and Uber, incidentally, were battling it out in China. After bleeding a substantial amount of money, Uber bowed out of the fight last month by merging its operations with Didi for a 20% stake in the Chinese operator. Post the deal, Didi became a $36 billion company from a pre-deal valuation of $8 billion.
And now Uber's investor Google is trying to fight the $62 billion startup on its home turf.
Back home, a section of observers feels Ola has nothing to fear, not even celebrate, from Google's new-found interest in the transportation business. "It (Google) is not directly competing with Uber or Ola. It is for private people who are offering a ride to fellow commuters in the same direction. I don't think Google will enter India (in the transportation space) in the near future, anyway," says Pragya Singh, a consultant with Technopak Advisors.
Mrigank Gutgutia of Red Seer consulting echoes this view. "Google doesn't have enough knowledge about the US market itself. So, don't think it will directly enter the Indian market," says Gutgutia.
Some, however, do not rule out the possibility of Google gaining an upper hand in the business. "Google has demonstrated excellence in artificial intelligence. But cab hailing business is a supply and demand game. Whoever has the best network effect will win," says Anupam Mittal, founder of People Group and an investor in Ola.
Ola, Uber India and Google's Waze team did not respond to email queries from Techcircle. We will update the story if and when we get the responses.
Like this report? Sign up for our daily newsletter to get our top reports.
---