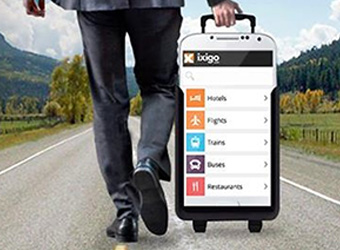 Online travel search engine ixigo aims to turn profitable in the next financial year, helped by new offerings, rising customer base and a greater focus on monetisation, a top executive said.
Aloke Bajpai, co-founder and chief executive, told TechCircle that the company's net revenue tripled to Rs 12 crore in 2015-16 from Rs 3.68 crore the year before and that the number of transactions doubled last fiscal year thanks to the seven million monthly active users it now has across the web and mobile.
"Until the end of 2014, we were busy building products, aggregating content and data from partners and getting the user experience right," Bajpai said. "It is only in the early 2015 that we started to push the pedal on monetisation and figured out how to drive more conversions and monetise it."
Bajpai also said that ixigo, operated by Gurgaon-based Le Travenues Technology Pvt. Ltd, expects gross merchandise volume—or the total value of transactions—to touch $140 million this year from $40 million last year. "We are already at $60-70 million and should be meeting our target in the next quarter, the most important quarter for travel," he said.
The growth projections by ixigo come at a time when the lack of strong monetisation models have led to the failure of several travel-tech companies over the past two years. One startup that failed to scale up was Tushky, an online marketplace for discovering and monetising leisure activities which stopped operations last year.
Ixigo also says it has introduced a slew of changes in advertising and lead generation, which helped the company grow in 2015-16. The company says that it has reworked its meta-search model to deliver more revenue and identified a wider base of clients.
In March, for instance, ixigo launched native booking experience called ixibook, which allows startup to consummate transaction on the ixigo app. It has also partnered with companies that perform services related to travel, such as food delivery and intercity cab sharing.
In July, it rolled out an artificial intelligence powered personal assistant, called ixibaba, that allows users to plan their trip by conversing with them on topics across flights, hotels, buses, cabs, places to visit and vacation destinations.
The company also claims 90% of its traffic is organic and is mostly through search engine optimization, word of mouth, content marketing and social media. Bajpai said that ixigo has spent only about $3.5 million on marketing since inception in 2007.
Industry observers say strong innovation is crucial for travel-tech firms, both from the point of view of users and disruption. Alok Mittal, angel investor and co-founder of fintech startup Indifi Technologies, says India still lacks compelling innovation in the travel-tech segment to woo users to come online for their travel needs.
"It is a question of unique value proposition you are giving to the users. In India the pricing of offline travel agents is fairly low and if you can get the same service then you wouldn't want to go online and deal with it separately. The success of a startup lies in the use of technology to drive user engagement," Mittal said.
Founded by Rajnish Kumar and Bajpai in 2007, ixigo has evolved from being a meta-search engine for travel to a travel marketplace, where a customer can find travel information, deals on hotels, real-time fares and availability, book cabs and can access travel content across hundreds of travel sites. The firm's most successful offering is its train tickets booking app, which has recorded 9 million downloads so far.
Ixigo had raised $18.5 million in funding in 2011 from SAIF Partners and NASDAQ-listed online travel agency MakeMyTrip. In June last year, handset maker Micromax made an undisclosed investment in ixigo. It is now in advanced talks to raises a Series B round of funding.
Like this report? Sign up for our daily newsletter to get our top reports.
---