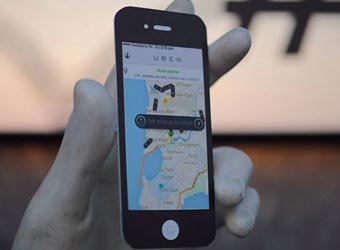 The race for technological supremacy is heating up the tarmac as Uber Technologies Inc, which runs cab-hailing app Uber, has started testing driverless cars in Pittsburgh in the US, jumping ahead of Silicon Valley rivals and US car giants.
In an audacious experiment, it has deployed a fleet of driverless cars laden with lasers, cameras and other sensors on the roads of Pittsburgh. The cars are seen steering themselves to pick up Uber passengers who are used to being fetched by cars driven by humans.
According to a report by Chicago Tribune,  some of Uber's regular users woke up to an email Wednesday inviting them to test out the company's new self-driving cars, the centerpiece of a fully autonomous fleet Uber plans to use in the long run to replace human drivers. The pilot project, which is the first in the US to include members of the public, offers a taste of a technological future thousands have only read about.
As per another report by Los Angeles Times, Uber has been doing its driverless-car tests on open roads since May. People in Pittsburgh say they have seen the company's test drive cars driving around the city, their rooftops laden with sensors and communications equipment. But the project otherwise has been mostly a secretive affair.
In India, Uber is in a cash-burning race with Ola, the dominant player in the local market. The US cab-hailing firm recently decided to sell its China operations to bigger local rival Didi Chuxing in a deal that will give Uber a one-fifth stake in Didi. Uber earlier said the deal with Didi will allow it to invest more in India.
Citing a 7 September letter written by Uber to its investors, Reuters reported the company as saying that India is now its largest market outside the US and accounts for 12% of all Uber trips globally.
"Some of our fastest growth is in India, and the merger with Didi frees up resources for additional investment in our customer experience and technology there," the letter said.
In an interview with Mint, Uber's India head Amit Jain has said that the company plans to increase the team at its Bengaluru engineering centre to 50 from 15 by the end of the year and that the San Francisco-based team that catered to Chinese operations will now complement the Bengaluru centre.
Search giant Google has been into developing and testing driverless cars for quite some time now. US auto major Ford too has been trying to enter the driverless car segment.
Like this report? Sign up for our daily newsletter to get our top reports.
---