Apple reveals iPhone 7 prices, slashes iPhone 6 prices

Apple Inc.'s new iPhone 7 and iPhone 7 Plus smartphones will begin selling in India on 7 October with a starting price of Rs 60,000.
The US tech giant revealed the prices of all iPhone 7 variants for the India market on Thursday. The 32GB, 128GB and 256GB variants of the iPhone 7 are priced at Rs 60,000, Rs 70,000 and Rs 80,000, respectively.
The iPhone 7 Plus models are priced at Rs 72,000 for 32GB, Rs 82,000 for 128GB, and Rs 92,000 for 256GB.


The announcement comes after Apple, in its biggest ever price cut, slashed the prices of iPhone 6s and iPhone 6s Plus by as much as Rs 22,000.
The Apple iPhone 6s (128GB) will now be available at Rs 60,000 compared with Rs 82,000 earlier. The bigger variant iPhone 6s Plus (128GB) will now cost Rs 70,000, down from Rs 92,000.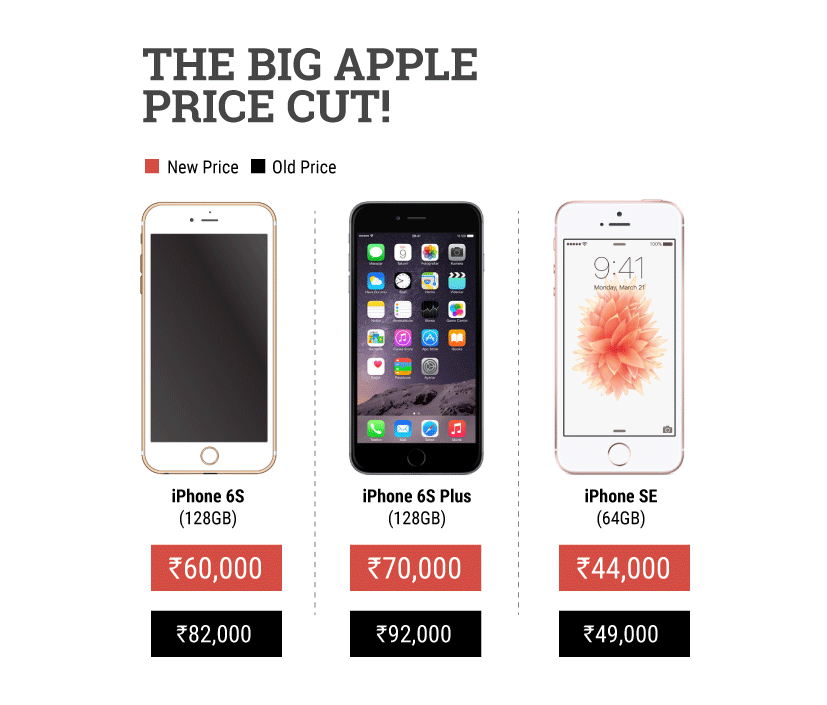 The 4-inch iPhone SE, which was launched earlier this year, also got a price cut of Rs 5,000 and the 64GB variant will now cost Rs 44,000.
Apple launched iPhone 6s and iPhone 6s Plus in India in October last year. The iPhone 6s (16GB) launched at a price of Rs 62,000, while iPhone 6s Plus (16GB) carried a price tag of Rs 72,000.

Although Apple has not yet officially started the pre-orders for the iPhone 7 and iPhone 7 Plus, several resellers such as IWorld have already started accepting pre-bookings for the devices.
Like this report? Sign up for our daily newsletter to get our top reports.
---