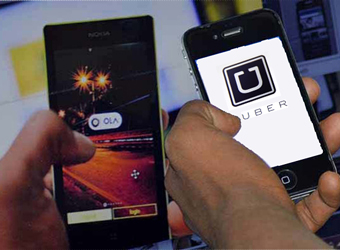 Cab-hailing startups Ola and Uber as well as a number of bike-taxi startups on Thursday sought greater clarity on regulations governing the sector and ease in licencing requirements at a meeting with central government officials.
Sanjay Mitra, the secretary of road transport and highways ministry, conducted the meeting of the committee to address the startups' concern, in a first step toward more regulatory clarity concerning cab and bike aggregators.
The committee was set up after the Delhi High Court last month directed that a panel must examine all issues related to permits given to taxis and cab aggregators.
Apart of Ola and Uber, representatives of bike-taxi startups including Baxi, Rapido and NOW attended the meeting that lasted more than an hour, according to a person present during the deliberations.
Ola was represented by Deep Singh, business head of north India; Uber by public policy executives Rachit Ranjan and Akshay BD; Rapido by co-founder Aravind Sanka and Baxi by founder Ashutosh Johri and entrepreneur-in-residence Rohit Koshy.
The startups expressed their concerns and presented their wish list, the person cited above said, asking not to be named. "Basically, all the startups wanted clarity on the norms, fitness criteria, and safety aspects to run the business," the person told TechCircle.
The bike taxis requested for ease in getting licences to operate. They also suggested a system equivalent to an all-India tourist taxi permit where a taxi can operate without affected by state borders, especially in the national capital region.
Last month, the Delhi High Court had also directed Ola, Uber and other taxi operators to not charge more than the stipulated rates after August 22.
At the meeting, Ola and Uber agreed for a cap in the upper limit for the rates charged but requested the government to not put a lower limit, the person said.
Like this report? Sign up for our daily newsletter to get our top reports.
---