App-based mothers' network First Moms Club gets funding from Idea Wave Labs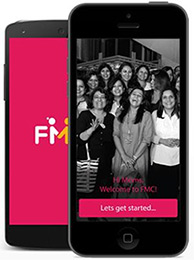 Singapore-headquartered technology startup incubator Idea Wave Labs has picked up a minority stake in Mumbai-based First Moms Club (FMC), an app-based network of mothers.
Chris George, country representative for Idea Wave, said in a statement that the company will work with FMC founder Ruchita Dar Shah to grow the startup into the largest network of Indian mothers.
FMC, operated by Ruchita Rambles Pvt. Ltd, plans to use the investment to expand its tech capability and scale up the business, George said.

FMC was established in 2010 by former advertising professional Shah as a Facebook community comprising 20 members. It has now grown to a 50,000-strong member community of mothers from across the globe including from the US, the UAE, India and Ghana to name a few.
FMC offers an information-sharing platform to mothers and enables them to engage with one another. It also allows its users to share their experiences anonymously. Besides, it helps its users to post about event gatherings and lets brands test and market their products.
In a recent interaction with TechCircle.in, Shah said that the platform earns revenue through brand partnerships. She plans to monetise through loyalty programmes for members, user-generated videos and through launching e-books.

Shah is the wife of Manish Shah, co-founder and CEO of BigDecisions.com, a company owned by News Corp, which also owns this news website.
The firm launched the beta version of its app on the Google Play Store and the App Store in April. The app has recorded 5,000 downloads so far. The app's open market release is set for early October.
Idea Wave typically invests between $25,000 and $100,000 in cash and other resources to seed-fund ventures and co-builds them. It works with enterpreneurs in the Indian and Russian-speaking markets.

FMC is Idea Wave's first investment in the Indian market. Every year, it looks to invest in three startups in the consumer Internet and mobile space in Asia.
Other players in the parenting segment include mycity4kids, Tiny Step and Baby Chakra to name a few. Mycity4kids is a content platform that helps mothers discover resources and events for their children and also connects users with mommy bloggers and parenting experts. Its main revenue stream is that of brand tie-ups through sponsored content on its website.
Baby Chakra, founded in 2014, provides listings around baby activities such as events, playschools and day care centres. It monetises through commissions from online marketplaces such as Amazon and Flipkart for transactions carried out through its portal. Tiny Step got funding from Silicon Valley entrepreneur Matt Glickman in March.

Other parenting apps that have raised funding this year include Bengaluru-based BabyBerry, which secured $1 million (Rs 6.8 crore) in angel funding in February, and My Child App, which raised $100,000 from Silicon Valley-based early-stage VC fund 500 Startups, Singapore Angel Network and a bunch of angel investors in January.
Though parenting and baby-care startups have emerged, investors feel the segment is too nascent to invest in.
Ritesh Malik, founder of Innov8, who invested in child healthcare startup Babygogo in March, said startups in this segment face challenges related to education of parents, a product misfit on what parents and babies need, and no clear USP.

"Personally, the ecosystem is too immature to invest in parenting startups. It's not a very lucrative market for now," he said. "That said, in the future, the baby segment is going to boost in India. This is a good space but only for long-term investors."
Like this report? Sign up for our daily newsletter to get our top reports.
---