Indian siblings who started up together and struck gold

On 23 August, a consortium of Chinese investors acquired Yahoo ad partner Media.net for $900 million, leaving its founder Divyank and his elder brother Bhavin Turakhia fabulously wealthy. In fact, so wealthy that they found themselves on this year's Forbes India Rich List, with a combined fortune of $1.3 billion.
The Turakhia brothers-promoted Directi, whose sister concern Starbuster TMT Investments owned Media.net, is one among several Indian tech startups, founded by siblings that have made it big, with valuations that can outclass a well-established mid-sized company.
Knowledge sharing portal Slideshare (later sold to LinkedIn), Girnar Software (which owns auto portal CarDekho), e-commerce platform for industrial goods Industrybuying.com, fashion and merchandise portal Campus Sutra, gaming company MadRat Games, US-based online shopping help bot developer Mez Mobile Inc and online ticketing company Kyazoonga are some prominent names that stand out.

So, where did it all begin for them? What makes these siblings tick? Have they ever experienced sibling rivalry? How do they keep their private relationships away from their work?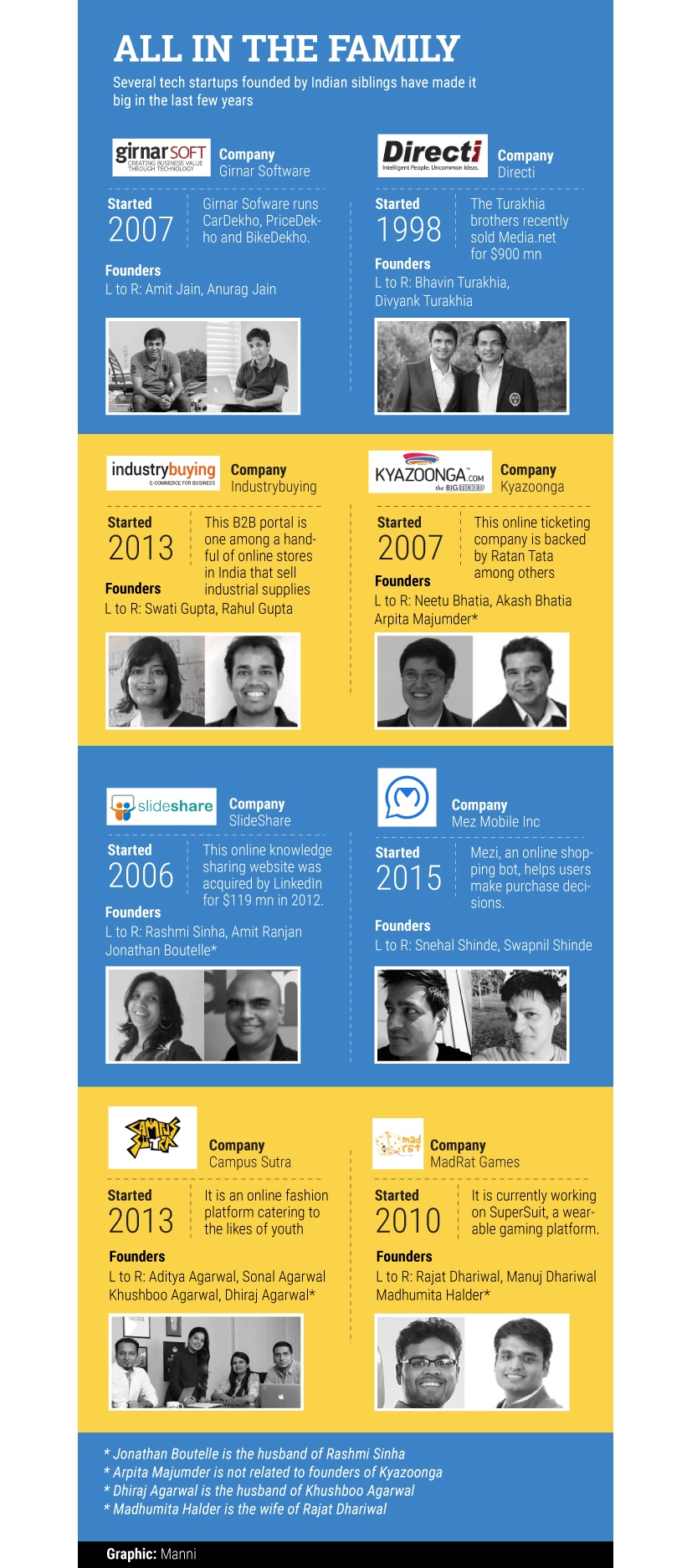 The breakout
The Turakhia brothers began small—with Rs 25,000 loaned from their father—and co-founded Directi in 1998. "The beginnings were humble and we started Directi from the kitchen of an apartment owned by my dad," says Bhavin, the elder of the two brothers, about the first steps in building a multimillion-dollar enterprise which today runs entities such as calling app Ringo, team communication app Flock, website registry operator Radix and digital payment and tax processing app Zeta.
For IIT Delhi graduates Anurag and Amit Jain, however, it was their father's demise that led the brothers to quit their jobs in Bengaluru and return to Jaipur to live with their family. "In our family, bonding runs very deep. We quit our jobs for the family," says Anurag while recounting how in 2007, they set up Girnar Soft, after dabbling for a couple of months in their father's gemstones business.
Anurag says that Girnar Soft was not carefully planned, but rather begun "circumstantially". That notwithstanding, the company today is reportedly valued at more than $380 million, having received funding from Sequoia Capital, Google Capital, Hillhouse Capital, Tybourne Capital, HDFC Bank and Tata group's chairman emeritus Ratan Tata.

It was another impulsive decision that led brother-sister duo Akash and Neetu Bhatia to set up ticketing company Kyazoonga, along with a common friend Arpita Majumder, in 2007. "I remember Akash calling me up in the middle of the night and asking, how about setting up a ticketing venture in India," says Neetu. This, she says, was after they faced problems while booking tickets offline, during a family trip to India.
Kyazoonga raised its first round of funding in 2007 itself, and has since done ticketing for big-ticket sporting events like the 2010 Commonwealth Games in Delhi and the ICC Cricket World Cup in 2011. The company now has offices across the Caribbean, the Middle East and the US.
Another sister-brother duo of Swati and Rahul Gupta took well over a year to plan setting up Industrybuying.com, an online store for industrial supplies in 2013. The platform has so far raised in excess of $12 million. Unlike most other upstarts, the Gupta siblings had a legacy family business.

"Both Rahul and I had been discussing about this idea for about year and-a-half. We were in the US and saw a lot of successful companies in this space," says Swati, whose family had been in the business of selling industrial products. "In India, we had a family business in industrial distribution so it was easy to connect the dots as nobody was into industrial e-commerce in India," she adds.
Despite the comfort of a family business, it wasn't easy for them to chuck it all up, as they both had flourishing corporate careers. While Rahul was an associate with the now defunct Lehman Brothers, Swati worked as a principal and country head for India at Opera Solutions till 2012. "We were focused on our academics and studies. Both Rahul and I had long corporate careers before we quit," says Swati.
She says that like any other startup, it was "very hard to get something off the ground, especially when funds were scarce". And it was a lucky break from a Srinagar-based client that got them going.

Swati says a Kashmir-based company began placing big-ticket orders regularly while they were still struggling. "It was really exciting for us that anybody sitting so far away would trust us and pay that much money in one transaction. It was a validation for our startup business model and that we cherished together," she says.
Family matters But how is it like working with a sibling? Does the personal relationship ever come in the way of work?
Not really, says Swati. "If you know each other all your life, it is really a different type of working relationship," she says. "The ups and downs can be handled very easily. There is a huge degree of honesty and frankness in the professional relationship as well. That's what actually makes it stronger."

The Gupta siblings, however, try and strike a balance, and make it a point not to discuss work with their other family members.
Bhavin, the elder of the Turakhia brothers, echoes this view. "We both started our different set of businesses which are completely non-overlapping. Yet, we both know everything about each other's business and share ideas and consult each other for important decisions," he says, while talking about his working relationship with his brother Divyank.
While Kyazoonga's Neetu Bhatia feels that working with her brother allows her to "speak, argue and discuss without the fear of being judged" by other people, CarDekho's Jain brothers feel that their similar professional lives help them strike a rapport with each other. "We both have similar backgrounds and complement each other in our skills. Brainstorming, therefore, becomes very easy," says Anurag on working with his brother Amit. That, and the fact that their business supports some 3,000 families.

Like this report? Sign up for our daily newsletter to get our top reports.
---