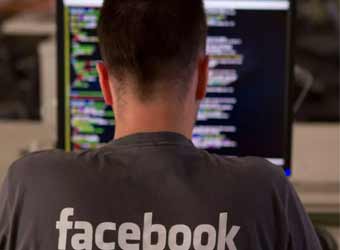 After dominating the personal lives of more than a billion users, Facebook now wants to enter the workspace too. The social networking giant has launched its enterprise messaging service Workplace which will compete with Slack, Google Hangouts, Microsoft's Yammer, Salesforce's Quip and Evernote.
"At Facebook, we've had an internal version of our app to help run our company for many years. We've seen that just as Facebook keeps you connected to friends and family, it can do the same with co-workers. We started testing a version of Facebook for the workplace with a few other organisations over a year ago," the firm said in Facebook Newsroom blog.
India is one of the key markets in the enterprise space for the Menlo Park, California- based company, which started as a college social network at Harvard University in 2003.
"Now, more than 1,000 organisations around the world use Workplace (formerly known as Facebook at Work). People have created nearly 100,000 groups and the top five countries using Workplace are India, the US, Norway, the UK and France. We're excited by the progress we've made and the level of adoption and engagement we're seeing," the blog said.
Workplace is priced way below its dominant rivals. Its biggest competitor Slack, which is into enterprise messaging, is priced at $6.67 per user per month, while Workplace is priced at $3 per user per month, according to Quartz. Microsoft's Yammer app for chat is priced at $8 per user per month and Google Hangouts costs $5 per user per month.
Mark Zuckerberg-led Facebook counts Yes Bank in India as one of its early customers. "Large multinational companies like Danone, Starbucks and Booking.com; international nonprofits such as Oxfam, and regional leaders such as YES Bank in India and the Government Technology Agency of Singapore have embraced Workplace," it said.
Workplace offers chats, groups, reactions, trending posts and live video—much like Facebook. The company has a differential pricing range for customers. The bigger the organisation, the lesser it will charge. It will charge $3 per head for the first 1,000 monthly active users, $2 each for 1001-10,000 users, and $1 each for over 10,000 users.
Facebook, which has revenues of $18 billion, last week launched its Marketplace for users to buy and sell items.
With Marketplace, Facebook is attempting to organise the already popular but scattered buying and selling activities on its platform.
The company claimed that more than 450 million people visit the buy and sell groups on Facebook each month.
On October 7, it launched 'Events from Facebook' for "event seekers who are passionate about keeping up with nearby events and finding things to do with their friends."
It seems to be exciting times for the enterprise tools market with the largest social network in the world taking a plunge into this lucrative space. Facebook hopes to tap more than a billion people's familiarity with the app. However, whether it will emerge as the leader in the space is yet to be seen.
---