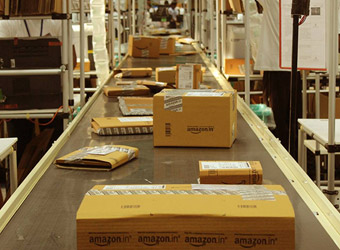 In what could give a huge boost to Amazon India's efforts to gain dominance in the Indian e-commerce market, the US-based e-tailer has launched its 'Global Store' here that will give Indian customers direct access to over 4 million global products.
With the launch of the Global store, Amazon.in—run by Seattle headquartered Amazon.com Inc.—now becomes the single largest online destination for buying both local and global products in India, the company said in a press statement on Friday.
Customers from India had the option of buying products from Amazon's US platform earlier, but had to pay in dollars. The Global Store will allow users in India to purchase products sold on the US website and pay in local currency. The wide range of product selection of international brands is expected to give Amazon an unprecedented advantage over its Indian rival Flipkart.
Amazon will now offer a dedicated page where customers will be able to see product prices, import fees deposit and shipping fees (based on delivery option selected) in Indian rupees and get delivery in 2-12 days.
In early 2010, eBay started including storefront inventory in results when shoppers searched on the website's front page. That helped retailers place their products in front of more consumers.
"This festival season, we are excited to launch the Global Store on Amazon.in, providing Indian customers with convenient access to millions of international products from Amazon.com, offering a trustworthy and hassle free shopping experience they expect of Amazon," said Amit Agarwal, vice president and country head, Amazon India, in the statement. Customers will have three different delivery options on the Global Store. The 'priority shipping' option will have a transit time of 2-4 days, while 'expedited shipping' will ensure product delivery between 5–10 days and the 'standard shipping' option will have a transit time of 9-12 days.
The shipping charges will be determined by the shipping option chosen by the customers as well as by the size and weight of the shipment.
Amazon Global Store has tied up with India Post, DHL and Aramex as third party logistic providers.
Customers can return products within 30 days of delivery for full or partial refund based on the reason for return. Customers can schedule returns via the Amazon.in website or through a customer service agent in India. Customers are provided with pre-paid return labels through a preferred carrier who will pick up packages directly from customers' doorsteps.
Amazon had introduced Global Store in China and Mexico in the past.
Amazon and Flipkart are in an intense battle for supremacy. Flipkart, Amazon and Snadpeal had run sale events campaigns recently ahead of the festive season and are planning more such events for the year. As the first campaign ended, Flipkart had announced victory over Amazon by selling 15.5 million units as compared to Amazon's 15 million units.
The two firms are also trying hard to woo customers by improving shopping experience. In July, Amazon India launched its much-awaited membership programme Amazon Prime for Indian customers. A popular service in markets such as the US and the UK, Amazon Prime promises to deliver products ordered to member customers within a day or two.
In an immediate counter to Amazon Prime, Flipkart, a month later, launched Flipkart Assured, a programme that customers can use to avail free delivery within two to four days for products that cost more than Rs 500.
---