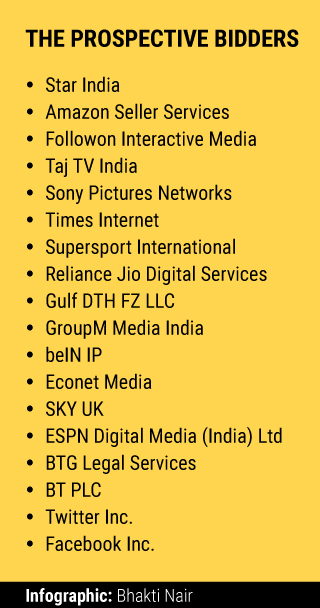 Online retailer Amazon and social networking giant Facebook are among the 18 companies that have evinced interest in buying the media rights to the lucrative Indian Premier League cricket tournament.
Microblogging site Twitter, broadcasters Star India and Sony, and billionaire Mukesh Ambani-led Reliance Jio are among the others who have purchased bid documents, the Board of Control for Cricket in India said. The bid submission process will be held on 25 October, the BCCI said.
Presently, Sony Pictures Network India holds the television broadcast rights and Star Network has the digital rights and international media rights; all of which would expire by 2017.
The prospective bidders are contending for television rights in India for the IPL until 2027. They will also contest for the digital rights in India and global media rights until 2022.
"With the global trends of showcasing content on multiple platforms becoming increasingly important—TV, internet and mobile rights are up for grabs together this time. To have as many as 18 prospective bidders in the fray reinstates the faith of market forces in Indian Premier League," BCCI president Anurag Thakur said in the statement.
On why the IPL television rights for the Indian sub-continent were awarded for 10 years, BCCI chief executive Rahul Johri had said the board wanted to replicate the current cycle, which gave Sony Pictures the rights from 2008 to 2017.
"In our country television is very well established. If you look at most cricket tenders, eight years-10 years have been the norm. That's why we went for 10 years. The area where trends are changing very fast is digital, that's why we have reduced digital to five years," Johri said in a statement.

BCCI is expecting close to $4.5 billion from the sale of rights for TV, internet and mobile, according to a report on News18.
---