Despite a 22% fall in fund inflow over the last year, India has closed the gap with the second-largest startup ecosystem UK, which is estimated to have around 4,900 startups in 2016, according to Nasscom Startup Report 2016.
In spite of the funding crunch, the country retained its position as the third-largest startup nation ahead of Israel and China, and sees birth of a startup every six hours.
It is expected to see 1,400 more startups emerging this year, taking the total tally to around 4,750, the report stated.
However, India is remaining far behind the US which has around 52,000 startups.
The study, which was conducted in collaboration with consulting firm Zinnov, shows Israel and China trailing India with approximately 4,500 and 4,300 startups, respectively.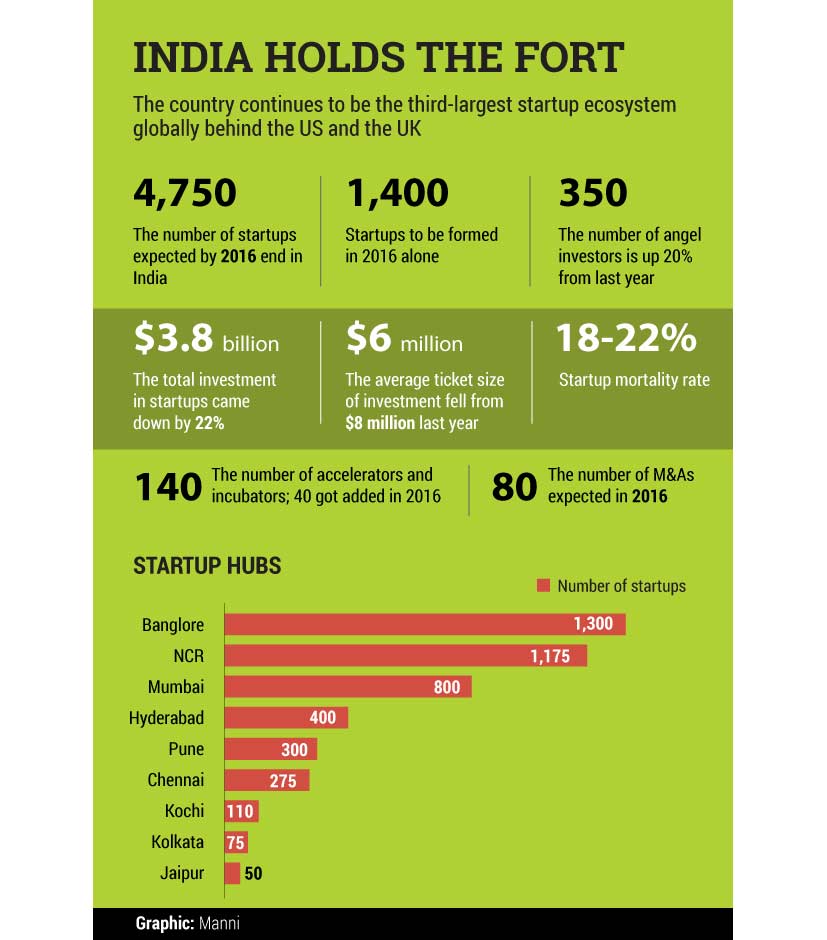 While 18-22% startups cease to exist, the Indian startup ecosystem together is estimated to employ around 100,000 people. The report, which was released on Wednesday, said the number of startups in India would more than double in the next four years to cross 10,500 by 2020.
"Nasscom believes the contribution of by startups has been growing at a rapid rate and the landscape has a huge potential in terms of business stability, revenue growth and further innovation," said CP Gurnani, chairman, Nasscom.
While 650 startups got funded this year against 600 last year, the total fund inflow has decreased from $4.9 billion to $3.8 billion this year. Some 80 mergers and acquisitions are expected to take place this year of which 60 have already been executed.
"Our startup report is a testimony to the potential of the startup landscape and the scope of growth and opportunity that India presents," said R Chandrashekhar, president, Nasscom.
---