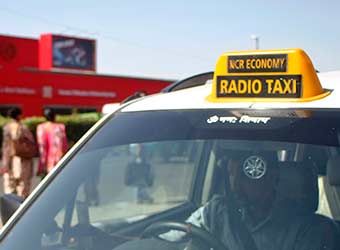 US-based ride hailing service Uber just overhauled its app in order to offer a "faster and personalised" experience to customers. The last redesign of the Uber app, which was launched in 2009, was done in 2012.
Here is a peek at the app's updated features:
Destination first: The company claims that if it starts the whole riding experience with a focus on the rider's destination, it "can tailor the journey better." Once the user marks the destination, the app will let the user know how much the trip will cost before he/she confirms the request.
Also the 'pickup location' and 'destination' fields that exist in the current app have been changed. Now, when the user opens the app, he/she will be greeted by a single field that says "Where to?"
People search: Uber is also adding a feature that lets users share their location with one another.
Riders can sync their contacts with the app, type their name into the search bar and once they have shared their location, they can get moving.
"We will soon be introducing a new feature that will enable riders to set their destination to a person instead of a place," the company said in a statement.
Shortcuts: The new version of the app learns from riders' routines. Users will see "shortcuts" that predict where one could be headed. This means riders can get moving with just one tap.
Calendar integration: Riders will also be able to connect their calendar with the app. Once connected, riders' meetings and appointments will automatically appear as "shortcuts."
"We designed the new Uber app around… beliefs that time is a luxury and that the information you need should always be at your fingertips. Gone are the days when everyone's app looks the same… And by starting with your destination, we can tailor the journey to you," said Yuhki Yamashita, senior product manager at Uber in a blogpost.
Uber is in a head-to-head battle with Ola, run by ANI Technologies, to gain more market share in India.
"We are as big as Ola with a 50% market share (in terms of trips completed). However, we are driven by more ambitious goals… Uber wants to be the transportation provider of choice and replace car ownership," Uber India chief executive Amit Jain had told The Economic Times, earlier this year.
After selling its China business to ride-sharing company Didi Chuxing, Uber has being trying to focus more on the India market.
---