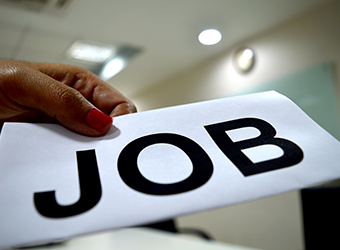 The world's largest social networking website Facebook now wants to be a job openings platform too. The California-based company has added a jobs tab on its page, in a move that could potentially challenge the position of professional networking site LinkedIn.
"Based on behavior we have seen on Facebook, where many small businesses post about their job openings on their Page, we're running a test for Page admins to create job postings and receive applications from candidates," a Facebook spokesperson told TechCrunch a few hours ago.
The move is expected to give corporations yet another reason to drive traffic to their pages on Facebook.
Now companies can advertise their job openings on their Facebook page and share details such as title and salary offered, among others.
The job postings will have an "Apply Now" button, which will launch the application form. These applications will be received as a Facebook message by the company.
Businesses can also pay to show their job postings to more people on the platform. This move can turn into a substantial challenge for sites such as LinkedIn because Facebook has a much wider reach than most job sites in the world. LinkedIn, for example, has 467 million members, TechCrunch said in its report. Facebook, on the other hand, has 1.79 billion users across the globe monthly.
The monthly user count of Facebook is higher than the population of India and the US put together.
Nearly 84.9% of the US-listed firm's daily active users are outside the US and Canada. As per the data from Q2 results, India has 155 million monthly active users on Facebook. The country-wise numbers for the third quarter are not available yet.
Facebook's Q3 results (for the quarter ended September 2016) show that it had an average of 1.18 billion daily active users and 1.09 billion active mobile users every day.
In October, Facebook had unveiled its Slack-competitor. US-based Slack is a fast growing workplace messaging app.
During the same month, Facebook added new features which allow users to get advice from their friends on things-to-do in their vicinity, book movie tickets, make appointments and even order food. However, these features have been rolled out only for users in the US for the time being.
It has also launched local commerce tool Marketplace for users to buy and sell items.
---