Flipkart's markdown blues continue as Fidelity, Valic trim stake value

India's largest online marketplace Flipkart's valuation woes seem to be far from over as two American mutual funds, Fidelity Rutland Square Trust II and Valic Co. have marked down the value of their investment in the company for the second time this year.
According to filings with the US Securities and Exchange Commission (SEC), the mutual fund managed by Fidelity Investments lowered the value of Flipkart shares it owns by 3.2% and Valic marked down the value of its investment in the company by 11.3%.
The latest markdown by Fidelity leaves Flipkart at its lowest valuation at $8.71 billion, but Valic's valuation positions the Indian e-commerce giant at $10.24 billion.

While Fidelity reduced the value of Flipkart shares to $81.55 for the quarter ended in August from $84.29 in May, Valic slashed down the valuation to $95.84 for the August-ended quarter from $108 in May.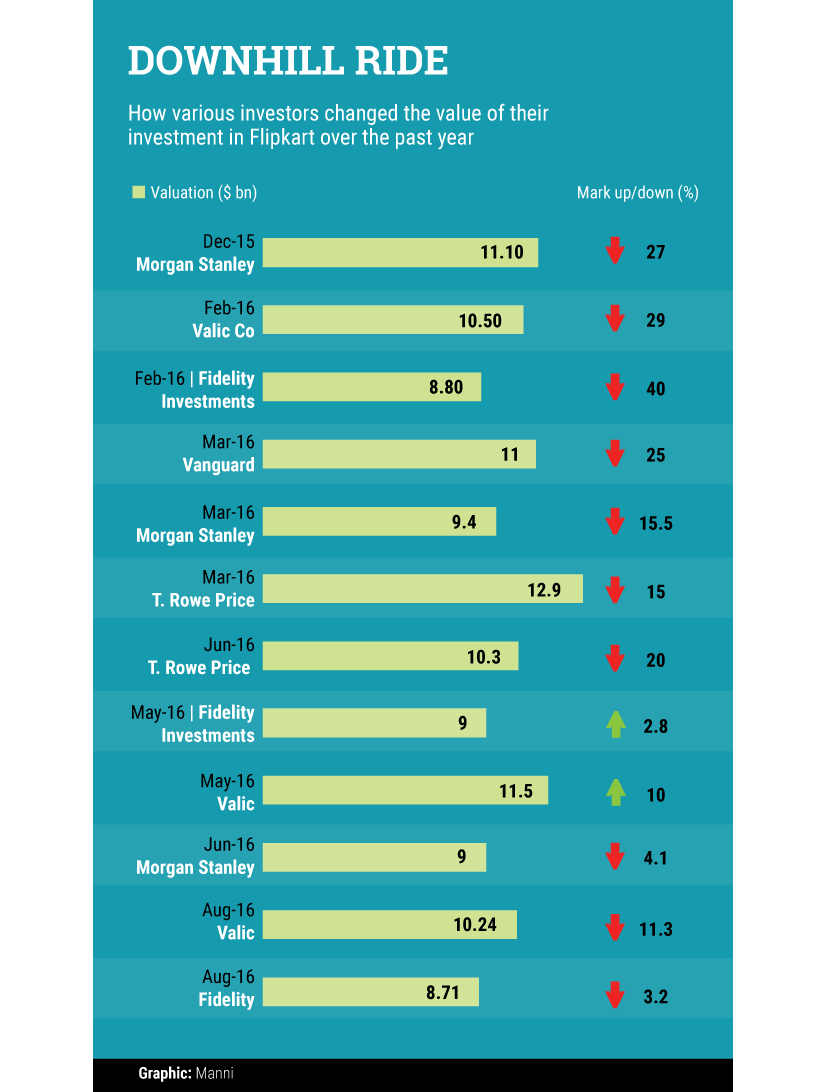 In its earlier markdown exercise, Fidelity Investments lowered the value of Flipkart shares by almost 40% to $82 apiece as of 29 February 2016 from $135.8 in August last year while Valic marked down the valuation by 29% to $98.19 a share from $139 apiece. Flipkart was valued at $8.80 billion and $10.50 respectively then.

The development was first reported by The Indian Express.
However, in August, both Fidelity and Valic had increased the valuation of their shares in Flipkart by 2.8% and 10%, valuing Flipkart at $9 billion and $11.5 billion respectively.
Overall, Flipkart has suffered eight markdowns so far.

The last incident of markdown happened when a Morgan Stanley managed mutual fund reduced its valuation of Flipkart for the third time by 4.1%, pegging its valuation at $9 billion.
Mutual funds managed by Morgan Stanley and T. Rowe Price had slashed their valuation of the company twice previously while Vanguard Group, Fidelity Rutland Square Trust II, and Valic Co. have each lowered the value once before.
The latest markdowns come at a time when Flipkart is reportedly trying to raise more funds from Wal-Mart Stores Inc., the world's largest retailer and Canadian fund CPPIB amid an intense battle with the Indian arm of US-based Amazon.com Inc. to maintain its leadership in the Indian e-commerce market.

Fidelity and Valic first invested in Flipkart in 2013 during the company's Series D round. Valic invested again in March 2015. To be sure, the value of their investments has risen since they bought shares of Flipkart. They together own about $6 million of Flipkart shares. The total value of Fidelity's shares, for instance, has risen to about $4.3 million from $1.2 million since 2013.
Flipkart's other investors include Tiger Global Management, Naspers, Accel Partners, Iconiq Capital, GIC, DST Global and Sofina Societe.
---