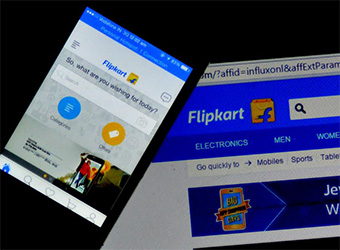 Home grown e-commerce giant Flipkart plans to enter the groceries segment next year and will further develop its furniture business in a move to take on its biggest rival Amazon India.
The firm intends to scale the grocery business operations over a three-year period, Binny Bansal, Flipkart's chief executive officer, told Reuters. Flipkart will add more variety to its furniture inventory and hopes to ramp up the business in three to four months, Bansal was quoted as saying in the report. Flipkart will also work on developing furniture assembly services.
Besides growing its business into new verticals, Flipkart may list itself in the public markets either in India or overseas in two to four years, Bansal said.
Flipkart is also incubating a Make-in-India project where goods such as electronics and apparels made by Indian manufacturers will be sold on the e-commerce site under a private label. The products that will be sold under the initiative, which is currently at a nascent stage, will be subsidised and have tax benefits, The Economic Times reported on Monday citing unnamed sources. Sachin Bansal is reportedly in the process of building a team for the initiative.
Earlier this month, Flipkart saw its valuation being marked down for the second time this year by American mutual funds, Fidelity Rutland Square Trust II and Valic Co. According to filings with the US Securities and Exchange Commission (SEC), Fidelity Investments lowered the value of its Flipkart share by 3.2%, while Valic brought its valuation down by 11.3%. Fidelity's markdown has left Flipkart with a valuation of $8.71 billion, while Valic's markdown puts the e-commerce firm at $10.24 billion in valuation.
It was also reported this month that Flipkart was in talks with US retailer WalMart and Canadian fund CPPIB to raise $1 billion in funds.
Flipkart and Amazon are locked in an intense battle to gain supremacy in the Indian e-commerce market. In the festive season sales, Flipkart managed to get ahead of Amazon by selling 15.5 million units of products, as compared to Amazon's 15 million. In July this year, Amazon India launched its popular membership service Amazon Prime in the Indian market where members will receive their products in a day or two. Soon after, Flipkart too launched its own programme, Flipkart Assured, where customers can avail of free delivery within two to four days for products that cost more than Rs 500.
Last month, Amazon launched a Global Store to give its Indian customers access to over 4 million global products. As part of the programme, users in India can buy products sold on Amazon's US site by paying in local currency, rather than in dollars. For the service, Amazon has partnered with India Post, DHL and Aramex as third party logistic providers.
In February this year, Amazon launched an app-based hyperlocal grocery delivery service, Amazon Now. The service offers two-hour delivery for daily essential items.
---