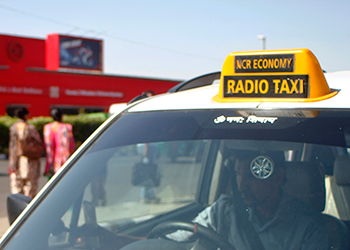 Just as the wedding season starts in the country, cab-hailing companies Ola and Uber have introduced new services to cater to all wedding-related travels in a market where the two are battling to establish a position of dominance.
While Uber announced its wedding logistics transport offering christened UberWEDDINGS in 12 Indian cities, Ola rolled out a new service under Ola Rentals where customers could book longer-period rides for wedding purposes.
Uber claimed that the service will enable the host to keep a track of their travel expenses without worrying about coordinating pick-ups and drops, parking, or waiting charges.
"UberWEDDINGS provides an easy way for hosts to ensure that all wedding-related travel in the city is managed through cashless pre-generated promo codes," Prabhjeet Singh, general manager Delhi & NCR, Uber India, said in a press statement.
The company has partnered with WedMeGood, a wedding planning portal that raised Rs 2.7 crore in seed funding from Indian Angel Network (IAN) last year, to introduce the service in cities such as Ahmedabad, Bengaluru, Chandigarh, Chennai, Hyderabad, Jaipur, Kolkata, Ludhiana, New Delhi, Pune, Udaipur and Lucknow.
People can buy customised promo codes and share it with their guests for free rides during the wedding.
Meanwhile, Ola's offer starts at Rs 499 where users can book Ola Rentals ride for the package of their choice from 2 to 8 hours. It also offers cash back of Rs 300 on the first 8-hour Ola Rentals booking and Rs 150 on the first 4-hour ride.
According to various estimates, the wedding market in India is worth $40 billion a year and is growing at about 20% annually. Indian weddings are often multiple day celebrations of grandeur. Hence, a complete logistics services for all wedding-related travel seems to make a perfect business move for the ride-haling companies.
The development comes a little over a week after Ola and Uber faced a setback when the Karnataka High Court upheld the state government's rule to put an upper limit on fares. The court's order effectively puts an end to cab aggregators' surge pricing model. The state had stipulated a rate of Rs 19.50 per km, as the upper limit.
Ola and Uber have been engaged in a fierce price war for a long time amidst an intensifying battle for dominance in the rapidly growing sector. Both the players have been aggressively innovative in their offerings to attract more customers.
For instance, home-grown cab-hailing startup Ola, run by ANI Technologies Pvt. Ltd, recently launched a postpaid service that gives users seven days of credit to pay for their travel. The move came in the wake of the Indian government's withdrawal of Rs 500 and Rs 1,000 notes, which has led to a massive cash crunch in the country.
In October, the company had introduced a key feature named Ola Offline enabling its users to book cabs without Internet through a text message.
In August, Uber unveiled a new feature 'Request a ride for others' which enables users to book a cab for others just days after it launched another feature wherein users can book a cab directly from their smartphone without downloading the app through its web interface, dial.uber.com.
Ola had slashed prices of Ola Share, its ride-sharing service, in September. In February, Ola slashed rates in various cities in India—it then reduced Ola Auto fare in Indore and unveiled lower fare for Ola Share in Mumbai and Pune.
In June, San Francisco-based Uber had slashed tariff of its low-cost offering UberGO in Delhi-NCR region.
In June, Uber India CEO Amit Jain had claimed that the company is as big as Ola with a 50% market share (in terms of trips completed by the two companies). Jain's claim resonates a similar claim by Eric Alexander, president of business in Asia for Uber, who in mid-March said Uber would overtake Ola in 30 days. The comments come after Japanese telecom and internet conglomerate SoftBank claimed, in a regulatory filing in August last year, that its portfolio company Ola enjoyed a commanding 85% share in India's cab-hailing market.
---