WhatsApp to withdraw support from millions of devices by year-end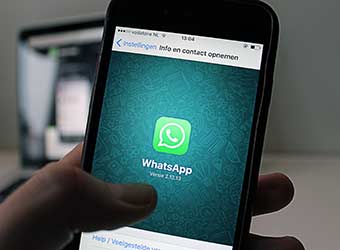 Facebook-owned WhatsApp recently announced in a blogpost that the messaging platform would no longer be functional on older devices and operating systems as early as the end of this year.
The announcement comes after WhatsApp earlier this year said that it would pull out of providing support for older models and that the deadline to upgrade was approaching fast.
The instant messaging application then updated its blogpost to claim that some phones would support the app till June 30, 2017, while it would discontinue services on the others by the end of this year.

"When we started WhatsApp in 2009, people's use of mobile devices looked very different from today. The Apple App Store was only a few months old. About 70% of smartphones sold at the time had operating systems offered by BlackBerry and Nokia. As we look ahead to our next seven years, we want to focus our efforts on the mobile platforms the vast majority of people use," said the blog.
By the end of 2016, WhatsApp will be ending support on the following mobile platforms:
iPhone users

WhatsApp will stop working on iPhone 3GS at the end of this year. It will also cease to function any iPhone running iOS 6, so any phone which hasn't been updated to a later operating system will lose WhatsApp. The change also affects first, second, third or fourth generation iPads that haven't been updated.
Android users
WhatsApp will cease to function on any Android tablet or phone running Android 2.1 or 2.2. This affects any phone released between 2010 and 2011 which hasn't been updated.

Windows phone users
Anyone still using Windows Phone 7 will not be able to use WhatsApp anymore.
Blackberry and Nokia users

People who have these phones are safe until June 2017: BlackBerry OS, BlackBerry 10, Nokia S40 and Nokia Symbian S60.
WhatsApp was launched in 2009 by two Yahoo! engineers Jan Koum and Brian Acton and was acquired by social media giant Facebook in 2014. It now boasts over one billion active users globally. Despite the huge user base, WhatsApp has been testing and introducing new features to stay relevant among its competitors.
In November WhatsApp rolled out its video calling feature, which is now available in 180 countries.

WhatsApp has also been testing a new feature to allow users to send images to its contacts for a limited period. The feature, similar to Instagram 'stories' and Snapchat's 'snaps', will co-exist will the old 'status' update tab.
---