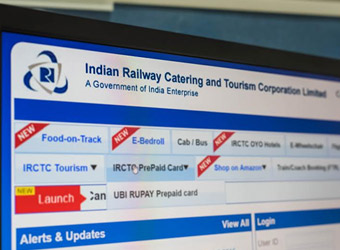 Indian Railway Catering and Tourism Corporation (IRCTC), a subsidiary of the government-controlled Indian Railways, has introduced several initiatives in November and December to improve the commuting experience for millions of travellers. IRCTC, which started with 29 bookings a day in 2002, is currently booking 1.45 million tickets a day. If you are a user of IRCTC, you may want to take a look at these recently introduced initiatives:
1. Inclusion of the third gender in reservation forms: Indian Railways and IRCTC have now included transgender, alongside male and female, as a third option in the ticket reservation and cancellation forms. The inclusion was a result of compliance with a petition of the National Legal Services Authority, which aimed at providing equal rights and protection to the transgender community.
2. Booking rail tickets via mobile wallets: To enable digital payments for online ticket booking, IRCTC has partnered with mobile wallet firms FreeCharge and MobiKwik. Users can make payments for both normal and tatkal bookings on FreeCharge, but can only pay for tatkal bookings on MobiKwik.
3. Concierge services on 139 facility: The concierge services introduced by IRCTC to improve passengers' travel experience can now be availed through the 139 Interactive Voice Response (IVR) facility. It includes amenities like pick and drop, e-wheelchair and porter services at big railway stations. Last week, IRCTC introduced a facility whereby passengers can cancel their reservation and claim a refund by dialing 139.
4. No charges for online booking: In the wake of the cash crunch that followed the demonetisation drive and to encourage cashless transactions, IRCTC has waived service charges for online bookings from November 23 to December 31, 2016.
5. Aadhaar card mandatory for senior citizens' ticket concession: The Railway Ministry has made it mandatory for senior citizens to have Aadhaar cards or Unique Identification (UID) cards to avail of concessions on both online and offline platforms. This rule will be optional between January and March, 2017, but compulsory from April onwards. The move was introduced to streamline the reservation process for senior citizens in the country.
---