A nationalistic fervour has taken over the Indian startup world with two of the largest homegrown consumer internet companies seeking protection from resourceful global rivals. Co-founders of Flipkart and Ola have demanded a level-playing field for domestic companies and even suggested blockades against foreign firms.
Speaking at an event on Wednesday in Bengaluru, Sachin Bansal, co-founder of India's biggest e-commerce firm Flipkart and Bhavish Aggarwal, co-founder of ride hailing service Ola played the 'nationalist' card and stressed on the need for an urgent government intervention to ensure a level-playing field between local internet companies and their global rivals, especially in their fundraising efforts.

"It is much easier for non-Indian companies to raise capital because they have profitable markets elsewhere. You might call it capital dumping, predatory pricing or anti-WTO, but it is an unfair playing field for Indian startups," Aggarwal said.
Bansal went a step further and called for a more India-centric approach when it comes to internet businesses than idealising standards set by other countries. "What we need to do is what China did and tell the world that we need your capital, but we don't need your companies," he said.
"Seed and Series A funding has matured in the country but for larger funding, one still has to rely on foreign investors. We should create a level-playing field for startups where it is easier for Indian companies to raise funding," Bansal said echoing Aggarwal's comments.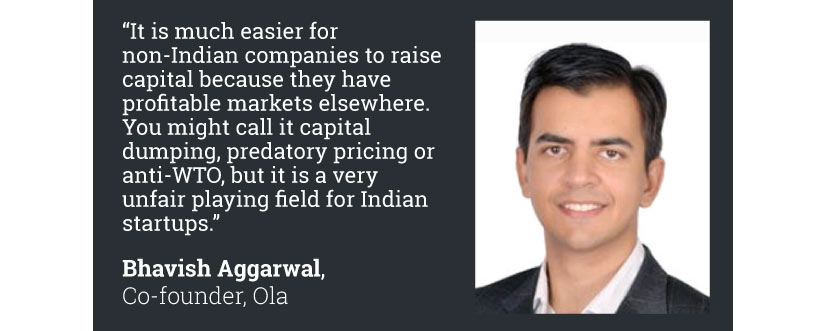 The two further attempted to validate their claims by saying that the market dominance by foreign companies can hurt creation of high-value jobs in India and that with Indian companies as leaders, security, data and privacy can well be under Indian control.
"The fight is on the capital side but not on innovation. Capital has become the main product differentiator," Aggarwal said.
However, not everybody agrees. Founder of digital payments platform Paytm Vijay Shekhar Sharma, the other star among the new-age entrepreneurs who built billion dollar companies, said if entrepreneurs forget to create unique Indian companies that solve the local problems, they would face the heat of competition from global companies.

"I  call upon every Indian entrepreneur to build a world class company out of India which can go to the global market. I do believe it is possible; there are innovations like cash-on-delivery which only Indians could do. Whether it is e-commerce, ride sharing or payments, every space has nuances that can help companies build large global businesses," Sharma said. "The capital is not the end game ever. When international companies play in India, they will have international resources and capital," he added.
Sharad Sharma, co-founder of iSPIRT, a think-tank for new age Indian tech companies, too argued for the level-playing field for Indian internet companies while making it clear that the organisation does not support protectionism. "iSPIRT's view is that the role of the government is to create a level-playing field and the market will pick the winner," he said. "When it comes to regulatory forgiveness, it is easier for an MNC than an Indian company. We need to eliminate such scenarios. That requires a serious government intervention," Sharma added.

The thinly veiled criticism of foreign companies – in this case, Amazon and Uber, which compete with Flipkart and Ola in their respective segments for market dominance – has suddenly brought in nationalism into the discourse. And many find this as the clamour for protectionism.
"Patriotism is the last refuge of the failing copycat unicorns, it seems. There is no logic in the arguments of Flipkart and Ola begging the government to stop Amazon and Uber from letting their founders become billionaires," said Seedfund co-founder Mahesh Murthy, who is a vocal critic of the business model of these companies.
"One claim they make against the US firms is 'capital dumping'. This is bizarre because Flipkart has dumped more foreign capital in India than Amazon has and Ola has dumped more foreign capital in India than Uber has," Murthy said.

"From a consumer's point of view, they have received the benefits of world class products and a competitive market because Amazon and Uber exist in India. It is not the government's fault that these founders deliberately chose the 'copycat' path to riches. The government should not bail them out," he said.
The nationalism of the Indian internet companies has often been played up as competition becomes fierce in the market. When the intense battle between Ola and Uber saw the two companies fighting it out in courts, the former argued that the latter was a foreign company profiteering through bypassing the laws of the land. It triggered a debate on how Indian Ola's ownership structure is.
Recently, when the Prime Minister and other senior ministers endorsed Paytm while pushing the idea of cashless economy in the aftermath of demonetisation, critics pointed to the China connection of the firm. Chinese ecommerce behemoth Alibaba holds 41% stake in One97 Communications, the parent company of Paytm.

However, the company later clarified that it would merge its wallet business with its upcoming payments bank to comply with the Reserve Bank of India (RBI)'s directions. Sharma will hold a majority share in Paytm Payments Bank as the bank licence was issued in his name. One97 Communications will hold the remaining stake.
The protectionist arguments would have an adverse impact on the ecosystem, according to Arvind Singhal, chairman of retail consultancy Technopak Advisors. "On one side, we have our prime minister travelling across the world, meeting global companies including Apple, Facebook and Google and asking them to make more investments in India, on the other side, we have homegrown entrepreneurs saying just give us the money, but don't run a business in India. It defies logic and by making such statements, they would only lose their credibility because if you are confident about success, you wouldn't be making such statements," he said.
"In the world of technology and innovation, it is inconsequential whether you are an Indian or a Polish or a Puerto Rican company. You just have to build the best product and the company to lead the pack. Anyone who wants differential treatment in the internet world (on the basis of caste, creed, nationality or religion) is making an extremely vulnerable argument. India doesn't need companies and entrepreneurs who can't guard their ground on the basis innovation and uniqueness," said Anshuman Verma, a former partner at Accel Partners, who runs venture capital firm M1L.
"Debate of foreign versus domestic players simply lies in access to capital, technology and superior customer experience," said Devendra Agrawal of Dexter Capital.
---