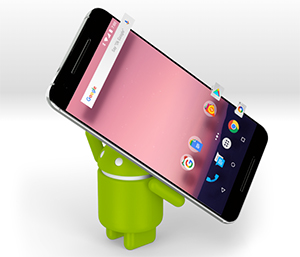 Google has started rolling out Android 7.1.1 Nougat Build in a bid to fix connectivity issues reported in Android 7.0 Nougat which was released in August this year and has been available on the tech giant flagship devices Google Pixel and Pixel XL.
Earlier this month, Pixel series owners reported that the 7.0 Nougat did not solve a few existing connectivity issues in LTE band 4. The new update resolves the issue and also brings in a host of new changes.
Listed below are a few features rolled out with the latest Nougat 7.1.1:
3D Touch type: Earlier restricted to the Pixel series, the new update will allow app shortcuts to other android devices too. Once an app is tap-held, it opens a sub-menu for specific apps to make tasks quicker.
Split-screen apps: The update will let users use two apps to run simultaneously on the screen. Users will need to press the recent apps/multitasking button and choose the two apps they want to see on the display.
Double tap to switch apps: Double tapping on the multi-tasking button pops up the previously used app for quick view. The same way users can return to the current app.
Reply from the notification bar: The new update lets users reply to messages without exiting the running app. The notification bar can be pulled down and by tapping the 'reply' button, one can reply to the message instantly.
Data saver: By activating the Data Savings mode, users can now decide which app can access data in the background, when the apps are not in use.
Better notification controls: Notifications from various apps can now be monitored. The options range from 'show notifications silently', 'block all notifications' or 'don't silence or block' for individual apps . Being expressive: The update also brings a new range of emojis depicting an array of professions for women and men, etc. Users can now send animated GIF images directly from the on-screen keyboard while using supported apps such as Google Allo, Google Messenger and Hangouts.
Android Nougat is available on selected devices including Google Pixel XL, Google Pixel and Nexus 6P. The new update will also roll out for other devices in the days to come.
---