Amazon India losses double in FY2016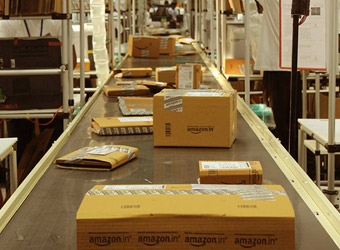 Online retail giant Amazon.com Inc.'s India unit saw its losses more than double in the financial year 2015-16 as it spent heavily to hold off competition from Indian e-commerce giant Flipkart.
Amazon India's losses for the fiscal year ended March 2016 soared to Rs 3,572 crore from Rs 1,724 crore in the previous year, according to a report in Mint newspaper on Monday, citing regulatory documents sourced from data platform Tofler. The company's revenues jumped to Rs 2,275 crore this year compared with Rs 1,022 crore last year.
"The company has invested in establishing infrastructure, opening new fulfilment centers and technology advancement due to which (the) company's losses increased to Rs 3,572 crore," Amazon said in the documents. "The company is also investing on launching new products and new services for its customer and its sellers. The company is confident on its future growth."

Last week, Cloudtail India Pvt. Ltd -- which is part-controlled by Amazon.com Inc. and is believed to be the single-largest vendor on its Indian e-commerce marketplace Amazon.in -- registered a four-fold jump in revenue for 2015-16. Revenue for the year ended 31 March 2016 increased to Rs 4,591.2 crore from Rs 1,145.4 crore the year before. Net loss shrank to Rs 30 crore from Rs 32 crore while total expenses jumped to Rs 4,621 crore from Rs 1,176 crore.
Amazon India's largest competitor Flipkart Pvt Ltd, the Singapore-based holding company of India's largest e-commerce marketplace, posted a net loss of Rs 5,768.8 crore for the fiscal year 2015-16, up 86% from a year earlier. Its revenue grew 50.3% from a year earlier to Rs 15,403.3 crore. The top-line figures do not include revenue from Flipkart's five-day annual Big Billion Day sale event in October or the impact from the acquisition in July of fashion e-tailer Jabong.
The Binny Bansal and Sachin Bansal-founded online retailer operates through a complicated corporate structure to meet regulatory requirements. The e-tailer has a number of companies registered in India, including Flipkart Internet Pvt Ltd, which is a unit of the Singapore-incorporated company. Other local companies are Flipkart Payment Gateway Services Pvt. Ltd, Flipkart India Pvt. Ltd, Flipkart Digital Media Pvt. Ltd and Flipkart Online Services Pvt. Ltd.

According to filings with the Registrar of Companies, the net loss of Flipkart Internet doubled to Rs 2,306 crore in 2015-16 from Rs 1,096 crore the year before. Revenue rose to Rs 1,952 crore in 2015-16 from Rs 772.5 crore.
Investments
US-based Amazon is said to have invested Rs 2,010 crore ($296 million) more in its India unit. The investment was made last month and is the largest capital infusion into Amazon Seller Services Pvt Ltd so far, the company disclosed in its Indian regulatory filings.

Amazon, which started operations in the country in June 2013, has already invested $2 billion into its India business and in June this year, Amazon's founder and chief executive Jeff Bezos committed to spend another $3 billion in India. And, the company's India head recently said that Amazon's $3 billion investment commitment is on track and that it would take a lot more investment to unleash the true potential of e-commerce in India.
The latest capital infusion by Amazon will put Flipkart under pressure to raise more funds quickly. Flipkart was reportedly in talks with US-based offline and online retailer Wal-mart Stores Inc. for an equity partnership. However, no funding announcement has officially been made, and there were also reports that the talks may have fallen through. Last month, Flipkart was reported to be in talks with investment banks including Goldman Sachs for a fresh fundraise.
---