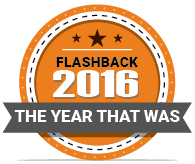 Snapdeal, India's third-largest e-commerce marketplace, had to fend off stiffer competition from larger rivals Flipkart and Amazon and endure volatility on several other fronts in a year when it had few reasons to rejoice.
The year, however, had started well for Snapdeal, as it received $200 million from Canada's Ontario Teachers' Pension Plan and other investors at a time when incremental funding for Indian startups seemed to be in the doldrums. The round valued Snapdeal at around $6.5 billion. Snapdeal has so far raised $1.65 billion from Japan's SoftBank Group Corp, SoftBank-backed Chinese e-commerce company Alibaba Group and others.
But the e-tailer, run by Jasper Infotech Pvt Ltd, faced headwinds soon after.
In June, Nikesh Arora, then president and chief operating officer at SoftBank and heir apparent to chairman Masayoshi Son, stepped down. Arora had led SoftBank's investment in Snapdeal, and had also invested in it the e-commerce company in his personal capacity.
In another blow to Snapdeal, SoftBank marked down its investment in the company in November. SoftBank, which has also invested in cab aggregator Ola, pared down the value of its investments in the two unicorns by $555 million.
VCCircle earlier reported that the Tokyo-based SoftBank's future support to Snapdeal was "under doubt", prompting the Indian company to explore other options.
Meanwhile, while Snapdeal founders Kunal Bahl and Rohit Bansal saw their stake fall in 2016, their high compensation packages made them the joint seventh-highest paid executives in India. Both of them got Rs 46.5 crore in total executive compensation for FY2015, surpassing Ola, Zomato, ShopClues, MuSigma and Paytm founders.
Dropped catches
Snapdeal's investment in logistics company GoJavas didn't go as planned. It had initially picked up around 30% of GoJavas for Rs 180 crore and later bought additional stake. GoJavas faced allegations of financial irregularities, and even though Snapdeal was looking to acquire a majority stake in the firm, the deal fell through due to differences over valuation. GoJavas COO Vijay Ghadge then joined Vulcan, the in-house logistics arm of Snapdeal, but left within six months in August.
GoJavas wasn't the only deal Snapdeal failed to strike in 2016. It missed out on snapping up Rocket Internet-backed Jabong, which its arch-rival Flipkart acquired in July for $70 million. Later, co-founder Kunal Bahl said Snapdeal would invest $100 million within a year to boost fashion retailing.
FreeCharge conundrum
Over the past few months, there have been several reports around Snapdeal's efforts to raise funds for its digital payments arm, FreeCharge, which it acquired in 2015. But the efforts haven't borne fruit yet.
From SoftBank to Taiwan's Foxconn (an investor in Snapdeal) to Chinese Internet giant Tencent, multiple names have emerged as potential investors. Snapeal is said to be looking to raise $150-200 million.
Last week, a report said PayPal could pick up a 25% stake in FreeCharge for around $200 million. While FreeCharge denied the report, Paypal refused to comment.
Top-level recast, new business model
Snapdeal lost one of its most high-profile hires, chief product officer Anand Chandrasekaran, this year. Chandrasekaran had joined Snapdeal from Bharti Airtel and is now working at social media giant Facebook.
Snapdeal also went through a top-level reorganisation, with each category business unit now having four broad work streams: portfolio management, key accounts management, brand alliances management and products life-cycle management.
The rejig saw category management head Saurab Bansal move to head Snapdeal Instant, a service to deliver orders within 90 minutes. Category management, market development and brand alliances were consolidated into one team under senior vice president Vishal Chadha.
In another change, Snapdeal tweaked its business model by setting up a wholesale unit to buy products that will be sold to consumers directly. The company also launched a new logo and tagline 'Unbox Zindagi'.
To be sure, Snapdeal has been working towards reducing ballooning operational costs to check widening losses. In August, for instance, it shut down Exclusively.com just 18 months after acquiring the marketplace for premium branded fashion and lifestyle products.
The e-tailer also vacated a 200-seat office in Mumbai's Malad and chose a 90-seat co-working space in Andheri instead. However, it remains to be seen how much these efforts and the Rs 200-crore brand makeover will benefit the company.
---