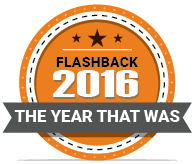 Homegrown cab-hailing firm Ola was in the news for more wrong reasons than right in 2016, from drying coffers and falling valuations to rumours of a down round and a nasty war of words with arch rival Uber Technologies Inc.
Although funding woes and falling valuations were widespread across startups, the taxi-hailing company got a lot of flak for trading silly 'nationalist' barbs with Uber, demanding government intervention against predatory pricing and seeking protection from mighty global rivals.
Here's a quick look at how Ola, run by ANI Technologies Pvt Ltd, fared in 2016.
Fundraising in doldrums
To date, Ola has raised around $1.3 billion in external funding. It was valued around $5 billion when it last raised funds in November 2015. It's been a year since the last round and the company needs to pump in more capital to take on Uber.
According to media reports, Ola has been in talks with new and existing investors to raise $600 million (about Rs 4,000 crore). Bloomberg had previously reported that existing investor SoftBank Group Corp might lead the round.
However, several media reports suggest that Ola would be forced to accept a down round at $3 billion, which would make it the first Indian unicorn to raise follow-on investment at a reduced valuation. This is more likely especially after SoftBank marked down the value of its investments in Ola and e-commerce marketplace Snapdeal in November.
"The headline valuation numbers usually don't reveal everything as we do not know what liquidation preferences and special rights investors have. Internet companies across the world were overvalued last year and several of them are coming off now," said Haresh Chawla, partner at India Value Fund Advisors.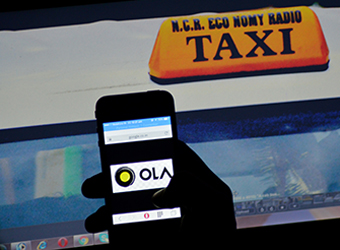 Nationalism, protectionism
Ola sought to play the 'nationalism' card and harped on its "indigenous" origin when it approached the Karnataka High Court in June alleging that Uber had no respect for the law of the land.
Later, in an interview, Ola CEO Bhavish Aggarwal said that the opportunity for cab aggregators was huge in India but "an American concept" wasn't likely to go too far. The dig, clearly, was aimed at Uber.
However, Ola was strongly criticised for trying to dodge competition through a national versus foreign narrative.
The nationalism debate soon gave way to allegations of capital dumping and demand for protectionist regulations.
"It is much easier for non-Indian companies to raise capital because they have profitable markets elsewhere. You might call it capital dumping, predatory pricing or anti-WTO, but it is an unfair playing field for Indian startups," Aggarwal said.
The idea was debunked by industry leaders, with many terming it as silly, hypocritical and devoid of merit.
"There is absolutely no merit in Ola's complaint… If you can't beat a highly competitive company, you just can't cry and go to government saying this has happened," said TV Mohandas Pai, angel investor and co-founder of Aarin Capital.
Mahesh Murthy, co-founder of Seedfund, questioned Ola's concern about the foreign capital. "This is such a silly joke. Apart from a few shares owned by some Indian boys from IIT Bombay, Ola is as foreign a company as anyone else. Its last equity investor was Scottish. The one before that was Russian. The one before that was Japanese. The one before that was American. Who is Ola trying to fool by suddenly becoming flag-waving nationalist bhakts?" asked Murthy.
According to an analysis of Ola's regulatory filings by Techcircle earlier this year, domestic shareholding in the company is just under 20%.
Ola also took up with the government the issue of predatory pricing and undercutting competition by Uber. But this move, too, drew flak from a section of venture capitalists.
The bright side
Ola took a number of initiatives to cut costs and offered new services to boost market share. VCCircle reported in August that Ola had shut down its TaxiForSure unit and laid off as many as 1,000 employees. Ola had acquired smaller rival TaxiForSure for $200 million in early 2015 to strengthen its position against Uber.
In November, it launched Ola Play, a connected car platform that allows users to stream content from a car's console. Ola tied up with Qualcomm for this service and will offer music and video streaming from Apple Music, Sony LIV and Audio Compass. Earlier, it had launched a postpaid service that gives users seven days of credit to pay for their travel. It also rolled out a new service under Ola Rentals, wherein customers can book rides for a longer period.
The company, along with Uber, got a breather when the Ministry of Road Transport and Highways, in a report submitted recently to the Delhi High Court, recommended removal of curbs that prevent taxi operators from hiking prices during peak hours.
Road ahead
If 2016 was bumpy, the year ahead will no less a test for Ola. The company will embark on a new fundraising drive, possibly at a reduced valuation, to protect its home turf.
Though the exact market share of the online taxi industry remains debatable, Ola is believed to command a slim majority. However, 2017 could change these equations—India is Uber's second-largest market after the US, and the company has maintained its aggressive stance on the Indian market on numerous occasions, especially after its China exit. In fact, Uber had announced that it has set aside $1 billion to invest in India.
"Ola's market share dominance depends on its next fund raise," said Arvind Singhal, chairman of Technopak Advisors, a retail consultancy. "Uber is very well-capitalised. It can raise money globally and allocate the capital for India. Ola would have to raise money based on its performance in India."
Singhal added that prospects look good for both companies. "It doesn't matter who is number one or two, the market is sufficiently large even for the second player," he said.
---