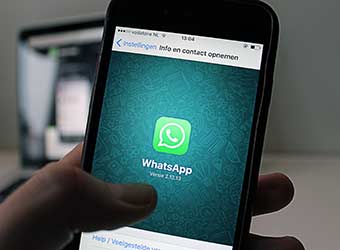 Facebook-owned WhatsApp messaging app has stopped functioning for those using older smartphones, according to several media reports including PTI.
The messaging service will no longer support iPhones running on 3GS or iOS 6 versions, any Android tablet or phone running Android 2.1 or 2.2 as well as Windows 7 operating systems, the reports said.
WhatsApp had announced discontinuing its service on older devices and operating systems early last year.
"When we started WhatsApp in 2009, people's use of mobile devices looked very different from today. The Apple App Store was only a few months old. About 70% of smartphones sold at the time had operating systems offered by BlackBerry and Nokia. As we look ahead to our next seven years, we want to focus our efforts on the mobile platforms the vast majority of people use," the company had said in a blog in February 2016.
Users with the affected mobile devices were told to upgrade to newer models before the end of 2016. Besides the iPhone, Windows and Android devices, WhatsApp had also decided to end services for BlackBerry OS, BlackBerry 10, Nokia S40 and Nokia Symbian S60. However, it later decided to extend support for these devices till 30 June 2017, the company said in its blog.
Recently, WhatsApp introduced two new features—video streaming and animated GIF support in its latest update. The new feature allows users to stream videos shared on WhatsApp without downloading. The app can convert six-second video clips into a GIF image before sharing. The feature also allows users to selectively crop their GIFs before sending. All the received GIFs will be accessible via the WhatsApp animated GIFs folder inside WhatsApp's file directory.
In December 2016, TechCircle.in reported that WhatsApp in its latest beta version is testing a feature which will allow users to evoke or edit sent messages in WhatsApp.
The company also rolled out its video calling feature in November across 180 countries.
---