Exclusive: Uber puts a pause on bike-taxi service in Faridabad

US-based cab-hailing firm Uber's bike taxi service UberMOTO seems to be unavailable in Faridabad. Users have claimed that they attempted to book the service multiple times, but failed to register a ride.
This week, TechCircle.in too tried booking a bike taxi on UberMOTO on three days (Tuesday, Wednesday and Thursday) at various times during the day. The app always showed 'no Motos available' at different locations across Faridabad.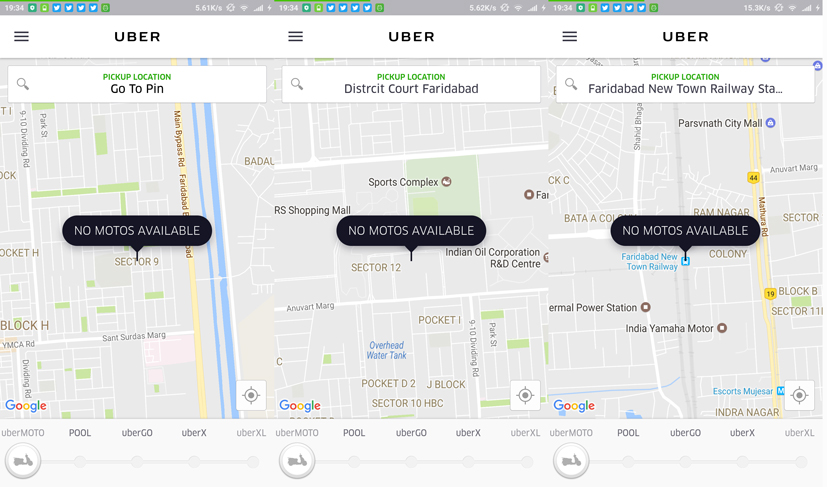 However, in response to an email request from TechCircle.in, an Uber India spokesperson said, "UberMOTO is currently available in Gurgaon and Faridabad in NCR. It is business as usual for us and we are constantly working towards ensuring we have enough UberMOTOs on the roads to keep Faridabad moving."
Though UberMOTO was launched in Faridabad in October last year, the service has not been able to gain traction among users, an industry source said. The people who avail of two-wheeler transportation are mostly blue-collared workers, who are not so tech-savvy to use an app-based service such as Uber MOTO. The service took off in Gurgaon because those who use the service are IT professionals, he explained.
UberMOTO charges users Rs 25 for three kilometres, Rs 50 for three to six kilometres and Rs 10 for every additional kilometer. Initially, the service was available from 7.30 am to 9.30 pm, according to the company's official blog.

Faridabad is not the only city where the service is unavailable. In September last year, TechCircle.in reported that UberMOTO went cold in Ahmedabad. Bikes were unavailable for users across the city.
Uber had launched its bike-share service in Gurgaon in March last year and in Ahmedabad in May. In Ahmedabad, the pilot was launched at Rs 2 per kilometre. The service is still available in Gurgaon.
Uber India's rival Ola Cabs' bike service Ola Bike is functional only in Gurgaon. In August last year, Ola was in talks to acquire bike taxi operators in several cities. However, the discussions did not yield results.

In December last year, Uber's founder Travis Kalanick launched UberMOTO in the south Indian city of Hyderabad. In March this year, both Uber and Ola had launched bike taxi services in Bangalore as well but had to halt operations days after the launch due to regulatory problems. The state government cracked down on the two companies on the ground that as per the Motor Vehicles Act, 1988 enforced in Karnataka, a two-wheeler is considered to be private transport and bike taxis need to be licensed for commercial use.
In May 2016, Uber had to suspend UberMoto in Bangkok, Thailand – where it was launched for the first time globally – due to government intervention.
India is one of the largest two-wheeler markets, and the past two years saw as many as 40 app-based companies emerge in Gurgaon, Noida, and Bangalore. These include MTaxi, Bikxie, Baxi, TuWheelz, Mobike, and NOW, besides Uber and Ola.

With Ola's bike-taxi service restricted to Gurgaon and UberMOTO going cold, Gurgaon-based Baxi remains the only major player in Faridabad. Baxi, which follows mainly a roadside pickup model, allows users to dial a missed call from their phones to book a ride in Faridabad.
Due to the grey area surrounding regulations in this segment, some startups have pivoted their businesses or shut down. Last month, Bangalore-based Rapido added bike-pooling to its offerings. The startup will now offer both bike-pooling and regular bike taxis to consumers looking to hail two-wheeler rides.
In September 2016, Hey Bob shut down its service after failing to raise fresh funds.

---