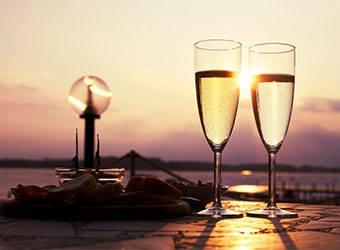 It was a regular day for Anika Agarwal, a communication designer. As usual, she was browsing through Facebook and came across an advertisement. She would typically not pay much attention to such ads, except this time it caught her eye. It promised discovery, personalisation and booking of activities and experiences ranging from a romantic Armenian dinner to farm house parties to scootering in the air.
She decided to give it a shot. Now, a few months later, she's already used CherishX's services three times.
"If you generally call people to arrange things for you, you'll have to tell them in great detail. It will take a lot of effort, but with CherishX, you're sorted with only one call," says Agarwal.
Agarwal is one of the many who are bored of mundane dates. To offer something novel to such people, a young team of professionals have got together with the idea of creating a platform that would provide interesting experiences.
CherishX, run and operated by Infureka Technologies Pvt Ltd, currently provides 95-100 experiences in the National Capital Region (NCR). It was founded in March 2016 by Mudit Jaju, Ichchit Agrawal and Mayank Singhania, all of whom are alumni of the Indian Institute of Information Technology and Management (IIITM), Gwalior.
The three management graduates were fresh out of college when they hit upon the idea of setting up CherishX. They saw their friends struggle to find innovative ideas for dates.
"We decided to cater to couples only. This helped us in two ways – we had a very specific set of people who we were trying to target and as a startup low on resources; it gave us focus," Jaju told TechCircle.in.
Revenue streams
CherishX operates on a commission-based model – it takes a fee from the vendors who provide the services. The startup serves as a mediator between the vendor and the customer, providing a platform for them to connect. A to-do list and guidelines on how customers are to be handled are given to the vendors.
In the first month of its launch, the startup saw only two bookings, but is now doing nearly 20 a day. The average ticket size is close to Rs 4,500. The company's target for 2017 is to book 50,000 dates in a year in Delhi alone. Most of CherishX's customers fall in the 25-30 age cohort.
Other players
A number of startups have emerged recently that provide customers experiences, activities and even gifting services. Bengaluru-based Giftxoxo, operated by Nreach Online Services Pvt Ltd, has expanded its services from gifting to activities and hobbies through various acquisitions and investments. In October last year, Mahindra Holidays & Resorts India Ltd, which operates Club Mahindra, invested Rs 3 crore ($450,000) to pick a 12% stake in Giftxoxo.com.
In June 2016, it acqui-hired BookMyInterest, a marketplace for hobbies and leisure activities. An acqui-hire refers to a buyout primarily for the skills and expertise of a firm's employees, rather than the product or service.
The gifting portal also acquired Actizone, an online discovery portal for extracurricular activities, in January, to service the kids' activities market in India.
In April last year, Delhi-based online wedding gift registration platform ForMyShaadi.com raised seed funding of $300,000 (around Rs 2 crore) from angel investors. Prospective couples can share their wishlist of gifts, which could be a mix of products and experiences, with the startup. The list then goes to friends and families who will fulfil the wishes through purchases on the platform.
CherishX differentiates itself from other players by offering exclusive-for-couples experiences, such as arranging for a couple to visit an orphanage for their birthday or anniversary. The most sought-after services by the startup are rooftop or private dinners. Besides, there is also demand for setting up experiences at a customer's residence, such as home decorating services and arranging for a guitarist, to name a few.
The startup is currently bootstrapped, and it claims to have broken even already. It is looking to expand to Chandigarh, Bengaluru, Mumbai, among other cities, but the first priority would be to consolidate in the NCR.
---