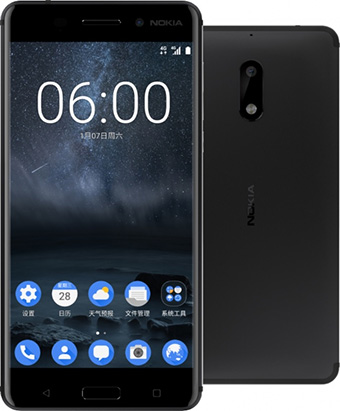 Finland's HMD Global, which owns the rights to the Nokia brand, has announced the first Android-powered Nokia smartphone, marking the comeback of the once-dominant mobile phone brand. The new device, Nokia 6, has been launched in China for 1,699 yuan ($246) and will be manufactured by Foxconn.
HMD, in a statement on Sunday, confirmed that the Nokia 6 will run Android 7.0 Nougat, the latest version of the operating system. The move could inject life into the Nokia brand, which missed the bus during the boom days of Android.
Spec by spec
The Nokia 6 features 4 GB of RAM and 64 GB storage alongside microSD support, a 16-megapixel main camera, and a 3,000 mAh battery.
The display has a bright hybrid in-cell 5.5-inch screen with full HD resolution and colour reproduction wrapped in 2.5D Gorilla Glass. The display stack is laminated together with a polariser layer enabling sunlight readability and slim form. The latest-generation Qualcomm Snapdragonâ"¢ 430 processor does duty in the phone, with X6 LTE modem designed for better battery life and superior graphics performance, the statement said.
The smartphone is packed with dual amplifiers that deliver 6dB louder sound than a regular amp. The Nokia 6 also packs a 16MP face-detection auto focus rear camera, an 8MP front camera and comes with a f/2.0 aperture lenses and exclusive camera UI.
The new device will be sold exclusively in China through online retailer JD.com.
"Our ambition is to deliver a premium product, which meets consumer needs at every price point, in every market. We start today, with our premium, high quality Nokia 6; built to deliver a fantastic core user experience for Chinese consumers. We look forward to unveiling further products in the first half of this year," said Arto Nummela, chief executive, HMD Global, in the statement.
In its last attempt to garner market share, Nokia had launched the Lumia range with Microsoft's windows operating system but the phone saw lukewarm reception as consumers flocked to Android.
After a deal in 2014, Microsoft continued selling phones under Nokia's brand name and Lumia smartphones under its own name, only to abandon both.
HMD took over the Nokia feature phones business in December and struck a licensing deal that gave it exclusive rights to the Nokia brand on all phones and tablets for the next decade.
HMD will pay Nokia royalties for the brand and patents, but Nokia has no direct investment in HMD. Nokia Oyj is currently focussed on the telecom equipment business and technology patents.
---