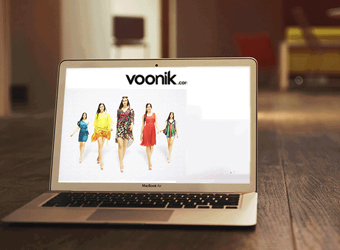 In another clash between sellers and online marketplace operators, fashion e-tailer Voonik and a group of Surat-based garment sellers are engaged in a legal battle over non-payment of dues.
A group of garment sellers had filed a first information report (FIR) against the fashion e-commerce firm on 7 January 2017. In response, the company dismissed the claims and filed a civil defamation suit against them at the District Court in Saket, Delhi for maligning its reputation in the local media in Gujarat. It has also sought Rs 10 lakh as compensation.
In its suit filed on 18 January 2016, Voonik said the vendors were blocked from selling their items on its platform as they did not meet the firm's quality standards.
The principal complainant in the case from the seller side is Dilipbhai Valjibhai Kalathia, who owns textile firm Rekha Fashion Hub. Kalathia had supplied sarees and dress materials to Voonik Technologies Pvt Ltd for 10 months starting October 2015, but he claims the fashion e-tailer failed to clear its dues.
In the FIR filed at the Salabatpura Police Station, Surat, Kalathia stated that Voonik owes his firm Rekha Fashion Hub Rs 63 lakh. Overall, it owes the sellers collective dues of about Rs 2.44 crore.
The FIR added that Kalathia's relatives Dilip Malde and Jignesh Golakiya supplied the portal with cloth items from three different firms Isha (Rs 11.66 lakh), Vivan Designs (Rs 19.95 lakh) and Rejoice (Rs 14.85 lakh).
Several other sellers in Surat are seeking dues totalling Rs 1.65 crore from Voonik. These companies are HR Impex (Rs 50.23 lakh), JH Impex (Rs 29.92 lakh), Shayona Creations (Rs 43 lakh), Fashion Icon (Rs 25.31 lakh), Madhuram Trade (Rs 15.58 lakh) and Ramdev Traders (Rs 1.25 lakh).
When contacted, Kathalia told Techcircle, "We approached the police four months back but they listened to us only now." He claimed that 10 other sellers are about to register their complaints with the police.
Kalathia's FIR states that Voonik has cleared only Rs 36.28 lakh while the remaining Rs 63 lakh is still pending, despite several reminders.
However, the fashion e-tailer has reiterated that it has cleared all the dues of the sellers.
"Dilipbhai Kalathia and his associates, who have been blocked from our platform for several months now, invariably failed our most basic quality checks. They regularly failed to meet shipment timelines, leading to order cancellations and numerous customer complaints," a spokesperson from Voonik told Techcircle.
The spokesperson added that the fashion portal tried on multiple occasions to resolve the dispute with Kalathia and his associates, "However, they refused to accept any documentary evidence provided to them, including proof of delivery documents for returned products from some of India's most reputed courier companies."
Voonik claims it has a registered seller base of over 23,000, of which 7,200 are from Surat alone.
"They are (Dilipbhai Kalathia and others) trying to pressurise and fraudulently obtain payments from Voonik, after giving our customers a shoddy experience," the company said.
Voonik was founded in 2013 by Sujayath Ali and Navaneetha Krishnan. It has a lean marketplace business, which operates without inventory and fulfilment centres. The main brand Voonik is for women while Mr Voonik is the dedicated platform for men. Both run independently with different apps and websites. There is also a premium products brand called Vilara.
The company has acquired or acqui-hired six companies since August 2015, which include Dekkoh, Zohraa, Trialkart, Picksilk, Getsy, and Styland. In June last year, Voonik raised $20 million (about Rs 134 crore) in a Series B funding round led by venture capital firm Sequoia Capital. Times Internet Ltd, Seedfund, Beenos, Beenext, and others also participated in the round.
Conflicts between sellers and online e-commerce firms have become increasingly frequent. Horizontal marketplaces Flipkart and Snapdeal ran into trouble with a section of their sellers last year over commissions and return policies.
The sellers on defunct e-commerce portal AskMe.com had initiated legal proceedings against the executives who represented Malaysian telecom conglomerate Astro in November last year.
---