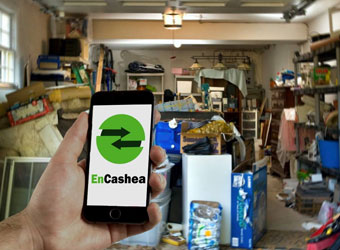 Bangalore-based scrap collection and recycling startup EnCashea has signed an all-cash deal to sell its technology and customer base to Hasiru Dala, a non-profit organisation for waste pickers and other informal waste workers.
Hasiru Dala, which is engaged mainly in wet and dry waste management, will venture into the scrap business using EnCashea's proprietary technology, Priyank Jain, co-founder and chief executive of EnCashea, told Techcircle.
Hasiru Dala employs the services of waster pickers, scrap dealers, sorters and others for total waste management for bulk generators, dry waste collection and aggregation, operation of bio-gas plants, and composting services, the non-profit's website states.
Founded in 2013 by the wife-husband duo of Nalini Shekar and Shekar Prabhakar, Bangalore-based Hasiru Dala Innovations Private Limited currently has over 7,500 waste pickers as members.
Previously, Nalini was co-founder of Kagad, Kach Kashtakari Panchayat (KKPKP), the union of waste pickers in Pune and co-ordinator of the National Alliance of Indian Waste Pickers. A graduate of IIT-Madras and IIM-Calcutta, Shekar was a professor at Welingkar Institute of Management and Europe Asia Business School in the past.
EnCashea, which raised seed funding from FreeCharge co-founder Kunal Shah and others, had shut down its operations in November last year due to an unsustainable business model that runs on thin margins, but necessitates incremental working capital.
In an earlier interaction with Techcircle, Jain said the startup will return around 15-20% of the raised capital to its investors.
The company that operated on both business-to-consumer (B2C) and business-to-business (B2B) models had ended its consumer business when it suspended consumer pickups in September 2016 on scalability concerns. The B2C business was growing slowly despite being a high-margin segment.
The company employed around 25 people, including seven-eight full-time employees in addition to contract staff.
Operated by EnCashea Technologies Pvt. Ltd, the startup was founded in August 2015 by Jain along with Harshal Chaudhari and Rahul Jaiswal, all IIT graduates. Jain worked with Avendus Capital and Dezyre in the past, while Chaudhari was associated with Schlumberger and Ather Energy. Jaiswal worked with Tavant Technologies, Fiscal Services and Snapwiz before launching EnCashea.
The startup allowed users to schedule scrap pickup both on its website and Android app. It collected and segregated recyclable scrap from both households and corporate offices, and sold directly to paper mills and e-waste recyclers.
In August 2016, the company raised an undisclosed amount in seed investment from FreeCharge co-founders Kunal Shah and Sandeep Tandon, Tracxn Labs and a group of unnamed investors.
EnCashea was also in talks with multiple venture capitalists to raise a Series A round, but failed to secure it.
Other startups operating in the scrap collection and waste management segment include KabadiExpress, Pastiwala, Karma Recycling, Pom Pom, ExtraCarbon and Attero Recycling.
---