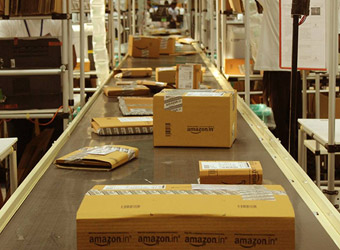 The Indian unit of Amazon.com Inc has increased the number of cities where it delivers grocery and household items to 14, the company said on its website.
The service, Amazon Pantry, was earlier only available in Hyderabad when it was launched as a pilot last July.
An Amazon spokesperson confirmed to Techcircle that Amazon Pantry is now available in 14 cities across India. These cities are Delhi, Bangalore, Mumbai, Pune, Kolkata, Hyderabad, Chennai, Gurgaon, Noida, Ghaziabad, Faridabad, Mysore, Vijayawada and Guntur.
The company also said on its website that it will expand the service to more cities in coming months. Amazon Pantry is an online supermarket where customers can buy grocery and household items. The user can fill a virtual box of items from the online store and have them delivered to their doorsteps.
Amazon charges a delivery fee of Rs 20 per box. Amazon Prime members don't have to pay the delivery charge.
Amazon has expanded its services in India beyond e-commerce. In December last year, it introduced in-home beauty services business. It has also launched its in-house fashion label Myx, an ethnic wear brand for women, to make inroads into the fashion segment.
In October, it rolled out a 'Global Store' to give Indian customers direct access to products on its US website. Ahead of the Diwali festival season, Amazon started its Prime membership service for India.
Amazon's main India rival, Flipkart, had also tried grocery delivery but pulled the plug on the service in February last year.
Amazon, which started operations in India in June 2013, has already invested $2 billion here. In June last year, Amazon founder and chief executive Jeff Bezos committed to spend another $3 billion in India, taking the total investment in the country to $5 billion.
In the grocery delivery segment, Amazon would compete with the likes of BigBasket, which raised $150 million from UAE-based private equity investor Abraaj Group, International Finance Corporation and other investors.
---