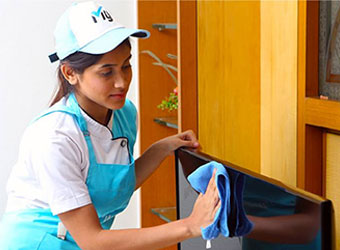 On-demand maid service Didi has acquired home services startup TimeMyTask in an all-stock deal, Didi's co-founder and chief executive Jhonny Jha told Techcircle.
After the acquisition, TimeMyTask will operate under Didi's brand name. The new entity is valued around $10-15 million.
"The basic intent behind this has been to mark our foray into the $500-million B2B SME cleaning market," he explained.
"The basic intent behind this has been to mark our foray into the $500 mn B2B SME cleaning market," he explained.
Didi will absorb the team at TimeMyTask, with founders Saurav Suman and Mohit Verma leading the B2B segment for the new entity, Jha said.
Didi was founded by IIT-Bombay alumni Jha, Sagar Sen and Tushar Jadhav in June 2015. Operated by Urbanity Multisol Pvt. Ltd., it had secured $150,000 (about Rs 1 crore) in angel funding from former McKinsey & Co executives Jozef Bardik, Leo Wang and Sangeeth Ram in November 2015.
TimeMyTask Services Pvt. Ltd, which ran an on-demand home cleaning services platform, raised an undisclosed amount of funding from angel investor network Lead Angels in February 2016. The company was founded in 2014 by Suman and Verma, both IIT Bombay alumni.
"Revenues currently have been growing at 50% month-on-month. With the B2B segment, we expect a three-fold increase in revenues. Our aim is to break-even completely in the upcoming four months, including the fixed cost," Jha added.
Other startups in the domestic help space are fintech startup SERV'D, which provides financial services to the unorganised workforce. It provides customers a dashboard to manage domestic help with ratings and reviews. For the workers such as maids, housekeepers and cooks, it offers a repository for their legal work history, which they can use to avail of loans. The startup raised $100,000 (Rs 67 lakh) from Digital Financial Service Lab (DFS Lab), a fintech incubator fully-backed by the Bill and Melinda Gates Foundation in December 2016.
In May last year, Delhi-based SBGK Online Ventures Pvt. Ltd, which runs online on-demand domestic help booking platform Bookmychotu, was in talks to raise its angel round of funding.
In November 2015, Mumbai-based BookMyBai.com raised around $150,000 (about Rs 1 crore) in angel funding from 50K Ventures and Vineel Nalla, CEO of NBOS Technologies and founder of 50K Ventures. The same month also saw online classifieds firm Quikr launch a new vertical called QuikrServices to help users find local service providers including cooks and maids.
The past few years have seen the emergence of several home and local services firms that provide handyman services, ranging from home cleaning and car washing to laundry, pest control and even hobby classes.
While no clear leader has yet emerged, a slew of startups, armed with investor cash, such as UrbanClap, Housejoy, Helpi, and Timesaverz, are targeting the household services segment. However, the segment also witnessed consolidation as the better-funded players acquired small firms. Besides, some companies even rejigged their business models.
Last June, LocalOye, backed by Tiger Global and Lightspeed Venture Partners, pivoted its business model to focus more on business-to-business (B2B) customers for better monetisation.
In February 2016, Mumbai-based home services startup Zimmber acquired Gurgaon-based FindYahan, and in September last year, Mumbai-based DoorMint shifted its business to laundry services in Mumbai and closed down in Bangalore and Gurgaon.
In May 2016, Bangalore-based Qyk, a mobile marketplace for local services, became an aggregator for home construction, renovation and interior designing services and rebranded itself as Papertostone.
---