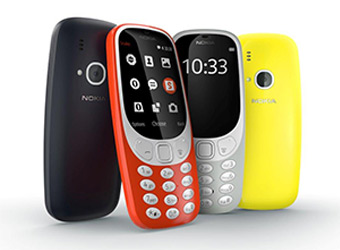 Nokia, the iconic brand that once ruled the feature phone market, is back, and how! At the Mobile World Congress (MWC) in Barcelona on Sunday, Finnish startup HMD Global unveiled three new Android devices—Nokia 3, Nokia 5 and Nokia 6—and the good ol', indestructible Nokia 3310 in a modern, re-calibrated avatar.
The euphoria around the launch notwithstanding, Nokia will have its job cut out as far as garnering a share of the Chinese vendors-dominated Indian handset market is concerned, believe experts. On the plus side, however, the smartphone maker can leverage the tremendous brand image it had created during its reign at the top.
HMD said all the the newly launched Android smartphones run Nougat out of the box, and they will be launched in the second quarter of 2017.
Sneak peek at devices
Nokia 6: The costliest among the three Android phones, it finally headed out of China for a global launch. Nokia 6 comes with 5.5-inch, full HD screen, and a 16 MP camera on the back and an 8MP front snapper. The phone comes with 32GB internal storage, which is expandable up to 128GB. Powered by 3GB RAM and a 3,000 mAh battery, it will be available in four colours—matte black, silver, tempered blue and copper. Average global price: €229 (Rs 16,151).
Nokia 5: With a 5.2-inch, IPS HD display, the phone is powered by a Qualcomm Snapdragon 430 processor and a 3,000 mAh battery. It runs 2GB RAM and 16GB internal memory, which is expandable up to 128GB using a microSD card. On the imaging front, a 13 MP camera does duty at the rear and an 8 MP camera at the front. Average global price: €189 (Rs 13,335).
Nokia 3: The cheapest Android device launched by Nokia at the MWC, it has a 5-inch HD display and comes with 16 GB internal storage, expandable up to 128GB. There is an 8 MP camera both on the front and the back. Average global price: €139 (Rs 9,812).
Nokia 3310 (2017): The modern version of the old classic comes with a jaw-dropping stand-by time of a month. The new version can play music and click pictures with its 2MP primary camera, and comes with 16 MB internal storage that can increased to 32 GB. It has a 2.4-inch QVGA colour display, an LED flash and radio feature, and supports 2G connectivity. Average global price: €49 (Rs 3,460).
'Snake' is back
Snake, the cult status game that Nokia users are still nostalgic about, is making a return with the revamped 3310. Besides, the company has also announced a new version of the game, Snake for Messenger, part of Facebook's Instant Games cross-platform experience.
Will these launches give Nokia a second wind?
The three Android devices that Nokia has launched are in the price range of Rs 9,000-16,000, the stronghold of Chinese smartphone makers Xiaomi, Vivo and Oppo. Analysts Techcircle spoke to were of the view that Nokia would want to target the offline retail space in India, in order to capture the brand value it has built over the years.
"If we look at Nokia's new phones, they have good specs but not as good as [what] Xiaomi, Vivo or Oppo are offering at the price point. If Nokia focusses more on the offline market, they can bank on the offline retail relations they have," said Parv Sharma, an analyst with Counterpoint Technology Market Research.
"At this moment competition is very high, but people will go for Nokia because the brand value is still there. If you see the growth of Oppo and Vivo, that is because of the retail relationships," Sharma added.
---