Flipkart to add 30% workforce in 2017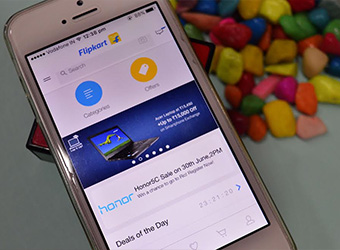 Amid massive job cuts in India's fast-growing e-commerce industry, home-grown online marketplace Flipkart is planning to ramp up its hiring efforts, a media report said.
The Times of India reported, citing unnamed sources, that the company will hire 20-30% additional workforce in 2017.
It said that the company is looking to expand its key teams, including engineering and supply chain, besides adding talent in a number of new categories such as FMCG, grocery and furniture. To drive its category expansion efforts, it is looking at candidates with 3-4 years of work experience.

An email query sent to Flipkart for more details on its hiring plans did not elicit any immediate response.
Flipkart's existing workforce includes around 8,000 permanent employees, and 20,000-25,000 are contract workers who are part of the supply chain.
Recently, Flipkart's chief operating officer Nitin Seth, who also oversees the company's human resources function, had allayed any fears of employee rationalisation and had assured that it had no plans to cut jobs. "We had to go through that phase last year, but with the growth we have seen in the last quarter and in January, and with February shaping up well, our growth cycle is back. We saw a significant uptick in gross merchandise volumes last quarter and do not see any need for rationalisation," Seth had told reporters on the sidelines of the Nasscom India Leadership Forum in Mumbai last month.

Seth's comment assumes significance at a time when rival Snapdeal has laid off 500-600 employees. Flipkart, too, had its share of workforce rationalisation – in mid-2016, it had laid off around 700 people, citing underperformance.
In fact, Seth was quietly working on revamping Flipkart's senior leadership team by bringing back old hands. At least half-a-dozen senior executives have returned to the company over the past few months. In a recent interaction with News Corp VCCircle, Seth had said: "It was a conscious strategy. We want to bring back the DNA."
In the face of heightened competition, successive markdowns and failed funding talks, Flipkart has witnessed two changes at the CEO level in the past one year. Several executives from the second layer, including senior vice presidents and vice presidents had also quit. Its valuation has also fallen by a third from the peak of $15.2-billion in mid-2015.

Amid this churn, the appointment of Kalyan Krishnamurthy as the CEO has paved the way for many old hands, including Lokesh Rajpal and Nitish Garg, to return to the fold and lead the efforts of putting the company back on track. Both Rajpal and Garg had stints with Tiger Global Management, the biggest investor in Flipkart.
---