Speak now, what are you looking for? A deep baritone welcomes you. Well, he is quite a character and talking to him is easy. The short and crisp answers are even more reassuring. And, within minutes you are ready to pick up your next gadget at the best possible price.
It's time to move over e-tailing portals such as Amazon and Flipkart for informed yet hassle-free shopping experience. There's a new virtual assistant in town, and it is changing the way ecommerce works – something that Trivago had done to the online hospitality sector, but with a difference.
BuzzOpinion could well be the go-to person for all your expert advice across commerce, travel and food – filtering hundreds of options to get to the product of your choice at the best possible price.
Founded by IIT-Bombay alumni Anand Ramachandran and Vivek Arya, BuzzOpinion was incorporated under Xcognition Technologies Pvt. Ltd in 2016, as a simple artificial intelligence-powered voice assistant for shopping. It has built its tech platform along the lines of Apple's Siri, Microsoft's Cortana or a Google Assistant.
"With the rising share of e-commerce coming from smartphones and more people using assistants like Siri, we thought that our AI-driven assistant could pleasantly change how people are shopping online today," Ramachandran told TechCircle.
The virtual assistant is currently available on the company's website with a "strong focus on electronics as it makes up for the majority sales in the e-commerce business today". It is also working on a mobile app.
BuzzOpinion has, however, set its sight on six categories – electronics, movies, television shows, places, restaurants and hotels – and will add its portfolio of offerings soon. "None of the e-commerce players seem to be focussing on having a solution such as ours. The AI assistant eliminates bad choices, enables much quicker decision-making and only presents options that deeply match your preferences and mood," Ramachandran added.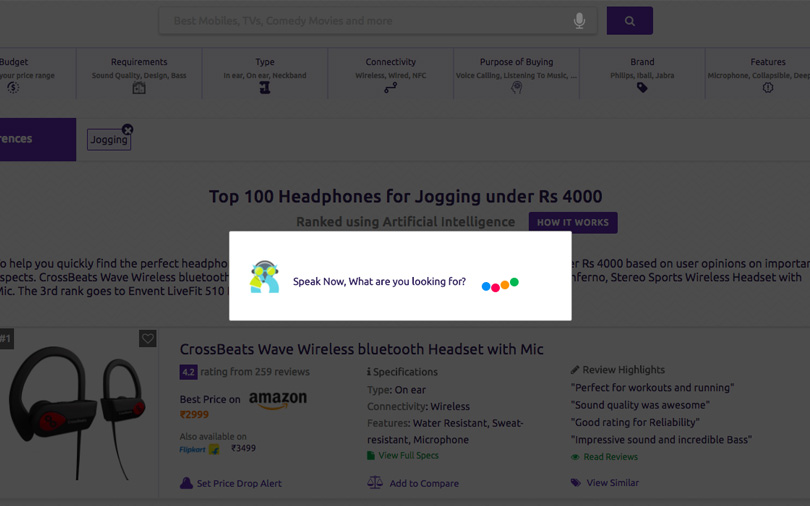 Experience it
So, next time you want to go e-tailing hopping for the best electronics deal, just visit BuzzOpinion, click on the 'mic' icon and speak your heart out.
The conversation could follow a similar pattern:
You: What is the best Android smartphone around? (A list appears)
VA: Based on recommendations and reviews here's your list of smartphones. The most recommended option is xxxx. What is your maximum budget?
You: 15k
VA: Which one of these features are important to you? Camera, battery life…
With every detail, the assistant zeroes in on the best available specifications within the price range, before listing the best deals across e-commerce portals. Click on your choice and you will be redirected to an e-commerce site – Flipkart, Amazon, Snapdeal, among a host of others – to complete the transaction. The users can also set up a "price drop alert".
Tech on
The AI engine was first fed the vocabulary and concepts across product categories before it was taught to communicate. For example, the assistant was taught the concepts of different specifications of smartphones, camera modes, batter life, etc.
"Right now we have 50,000 concepts that it can understand. We used other algorithms as well, to make it learn faster," said Ramachandran.
Then other attributes were added to its AI base using natural language processing, sentiment analysis and statistical inference algorithms. "BuzzOpinion recommendations are powered by all such algorithims. To achieve the recommendations, the AI system reads each review on the web and classifies the things mentioned in that review as "pros and cons", depending on the words used. Then it computes and assigns a reflective statistical rating between 1 (Terrible) to 5 (Awesome) for each aspect."
The AI engine uses Google text-to-speech recognition API for the conversational interface.
Partnerships
For electronics, BuzzOpinion already has an affiliate marketing partnership with Amazon, Flipkart and Snapdeal. Other players, such as PayTM Mall, will be added soon. For movies and TV shows, it is referring to reviews on IMDB and linking titles to Netflix, Amazon Prime Video and Hotstar. It intends to add other OTT players such as Hooq.
For the restaurants and hotels category, the AI is still being developed. "Currently we have a partnership with booking.com, but we are looking to work with other companies such as Zomato, Trivago and MakeMyTrip," he said.
Small fish
BuzzOpinion is a work in progress, and for now all is well. But will it be able to survive the onslaught if deep-pocketed ecommerce players decide to adopt the technology for their own benefit?
We all know how Flipkart is considering an investment of $25 million (Rs 160 crore) to build its business around deep-technology to match its global rival's experiments with the "future of shopping" with Amazon Go. What if Flipkart acquires the platform and makes the necessary modifications to adopt its technology?
Ramachandran was of the opinion that it would not be easy to replicate BuzzOpinion in a matter of three or four months even with deep pockets. "We took around two years to get to this level of proficiency with BuzzOpinion. We are adding 'Hinglish' as the next language because that's the most natural choice for electronics."
"The BuzzOpinion site has been live for nine months and we have started earning Rs 1 lakh a month from advertisements for the past six months. Once we achieve full roll out, we would like to see how customers are using it and then decide on the road ahead," he added.
There is reason to believe what Ramachandran says. Along with co-founder Arya, he had also founded MakeSense Technologies Pvt. Ltd, an AI-based platform for jobseekers, in 2009. As the product gained traction, it was acquired by Naukri in 2013 for $1.5 million cash and another $1 million in ESOPs.
MakeSense had built a semantic search technology based on a library of over 1 lakh concepts spanning skills and expertise, designations, companies and industries, and sought to deliver better results than the keyword-based resume or job search.
After the acquisition, the duo worked at Naukri helping them integrate their product with jobs portal's requirements for two years, before launching BuzzOpinion.
---