Global security spending on the internet of things (IoT) is expected to reach $1.5 billion (Rs 9,782 crore) in 2018, from $1.17 billion a year ago, a new study from research firm Gartner showed. The spend for 2021 will double to $3.1 billion, considering 2018 as base, the study added, revealing that nearly 20% of organisations surveyed have faced at least one IoT-based attack in the past three years.
The market for IoT security products, which depends on IoT adoption by consumer and industry sectors, is set to reach $1.9 billion and $2.4 billion in 2019 and 2020, respectively, said the study.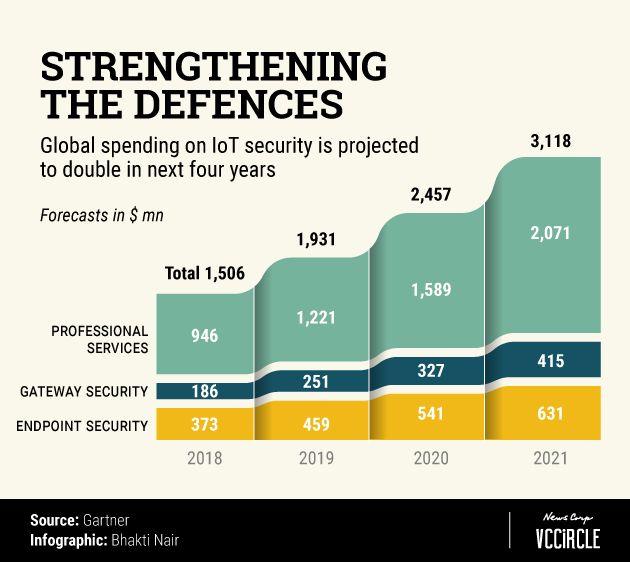 "In IoT initiatives, organisations often don't have control over the source and nature of the software and hardware being used by connected devices," said Ruggero Contu, research director at Gartner. "We expect to see demand for tools and services aimed at improving discovery and asset management, software and hardware security assessment, and penetration testing."
In addition, organisations will look to increase their understanding of the implications of linking up to external IoT networks, Contu said.
Contu added that although IoT security is consistently referred to as a primary concern, a consistent strategy is all but absent, and vendor product and service selection remain largely makeshift.
While basic security patterns have been revealed in many vertical projects, they have not yet been codified into policy or design templates, Contu said. As a result, he added, technical standards for specific IoT security parts in the industry are only just starting to get addressed across the board.

The report also predicted that, by 2021, regulatory compliance will become the prime influencer for IoT security uptake.
Explaining further, Contu said that that since interest is growing in improving automation through connected devices, the addition of these devices will start impacting security in sectors such as energy, oil and gas, transportation, and manufacturing.
---