Have ads of motorbike parts popped up on your phone, YouTube account or app just after a Google search for motorbike? If yes, the webpages you entered for your search must have had some trackers, whose job it is to help companies target ads to you, based on a collection of your private browsing data.

As we share more and more personal information on the internet than ever before, trackers deployed by digital marketing and advertising industry will be on our personal data trail for advertising purposes. But, the very name of personal data implies that it belongs to us, and anyone using it without our permission would constitute a breach. In other words, we should have data privacy.
But how can you protect your data from such trackers or, to quote a more recent example, an alleged Cambridge Analytica scam? Well, there are a few tools being offered by a handful of companies. One of them is a Pittsburgh-based startup named Redmorph that offers a free solution, at least, for your browsing needs, to help you thwart trackers.
Founded in 2015 by Mumbai-born Abhay Edlabadkar, Redmorph offers a browser extension that shows which trackers are monitoring you. At the same time, it lets you choose which trackers to run.
"There is a huge difference in the way we help users deal with data privacy or tracking. Most companies end up tracking the consumers themselves. This is a direct violation of data privacy -- a fight in which we want to be on the consumers' side. We don't track any consumers' data," Edlabadkar told TechCircle in an interview.
Explaining further, he said that his company has a team of engineers that tests the trackers by running simulations in a lab. "It is like we are being the guinea pigs. We first see the extent of the tracking and then we decide to block it in our browser extension, mobile app, and security solution, among other products," he said.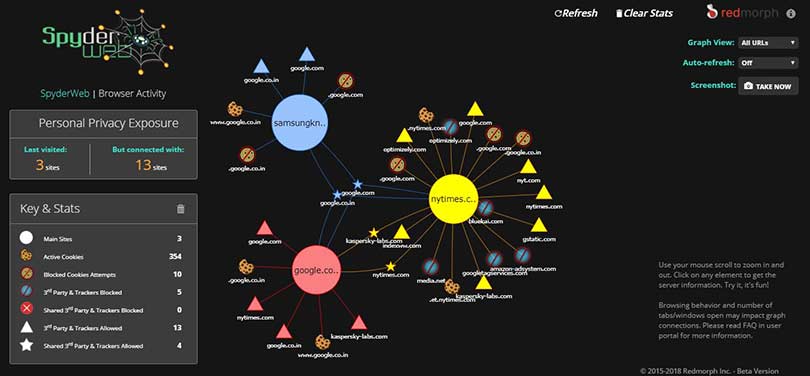 "Essentially, the browser extension uses proprietary Spyderweb technology to detect tracking signals and block their access. The user can choose which trackers to run," Edlabadkar said.
However, stopping trackers is not an easy task, the founder explained, because halting certain trackers affects experience on certain websites such as Facebook and YouTube. "Certain websites will not play videos, or have missing or de-activated chunks if we stop all trackers. But what we are trying to achieve is that fine line of distinction where users can safely allow some trackers so that their experience is not compromised," he explained.
Interestingly, Redmorph is not limiting itself to just browsers but is developing solutions for mobile devices and the network itself. Edlabadkar emphasised that because of the advent of internet of things and Google targeting end-point devices, the access points to internet are increasing daily. "It is because of these factors we need to secure as many devices as well as the network."
On the devices' front, the founder said his company was working on an app-rating system, unlike other solutions which base their app rankings on the number and types of permissions they ask for. "We run the app ourselves and see what data it is sending where and then we rate it internally in our software to offer better data privacy," he explained. The company is also planning Mac, Windows and Linux versions of anti-tracker software and is expected to release them in the next two months.
In the network space, the company is working with enterprise customers, governments, governmental organisations and organisations such as NATO, the founder said. "On the corporate front, we are working to devise a solution that can stop corporate espionage. The solution is much more sophisticated than others such as Samsung's Knox platform," Edlabadkar said. Samsung Knox is an enterprise mobile security solution.
"On the network side, the idea is to see what device is sending data where or which app is trying to read what kind of data from other apps. We are developing a self-healing software that will identify the breach, quarantine it and then fix it and add it back to the network," the founder said.
Before founding Redmorph, Edlabadkar was chief executive officer (CEO) of eBizNET, where he led the development of a supply-chain execution platform. Before that, he was CEO of 7Hills Business Consulting, a supply-chain consulting firm, which was acquired by KPIT Cummins Infosystems in 2010.

He has also served as an adviser on the boards of several startups. Redmorph is a partner of Carnegie Mellon University's CyLab Privacy and Security Institute. As a CyLab partner, Redmorph advises and collaborates with Carnegie Mellon researchers on cybersecurity topics.
He has a master of science degree in engineering from Virginia Tech and Texas Universities, an MBA in finance and economics from Columbia University. He graduated in mechanical engineering from Osmania University.
---