Nike uses athlete data to 3D-print customised footwear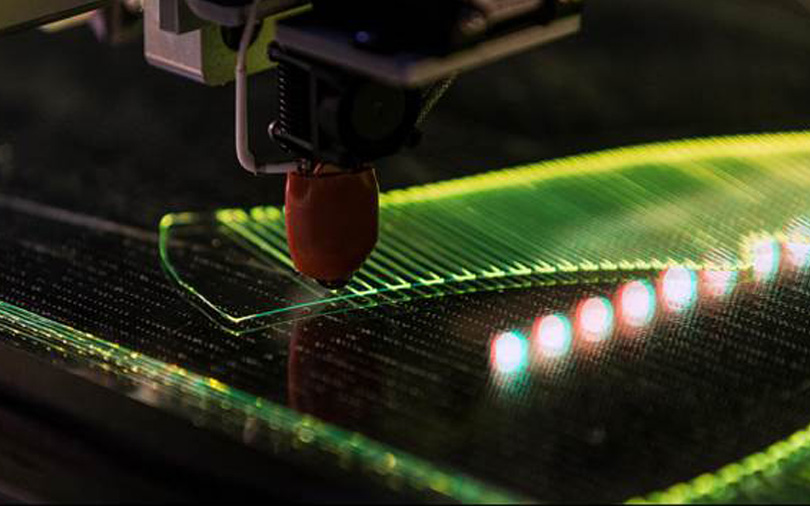 American sports and fitness company Nike on Tuesday said that it has adopted a 3D-printing method that uses athlete data to create uppers, or textile parts of the shoe above the sole, for customised performance footwear.
The process to develop the Flyprint uppers begins by using the athlete data to decide the composition of the material for the upper before the final textile is made. Through this kind of 3D printing for athletes, Nike says prototyping is 16 times quicker than that in any previous manufacturing method. Incidentally, Flyprint is the first 3D-printed textile upper in performance (athlete) footwear.
One benefit of textiles 3D-printed this way is the fused nature of the material. For example, whereas in a knit or woven textile there is frictional resistance between the interlaced yarns, in a 3D-printed one, due to its fused intersections, this is less so. Nike said material made by Flyprint method is also lighter and more breathable than the firm's previously employed textiles.

The advantages of Flyprint method are two-fold: Specific lines of the material can be adjusted locally, and testing and revision cycles can be trimmed significantly.
Nike said the textile also works seamlessly with many other materials, most notably Flyknit yarns, to provide an optimal balance of fit and structure. In fact, Flyknit yarns can be engineered to thermally bond with the Flyprint textile, eliminating any need for glue or stitching.

Three-dimensional printing is finding increased application not just in footwear but also in industries as sophisticated as aerospace. Last month, German engineering group Siemens said it had decided to invest €30 million ($37 million) to set up a 3D-printing factory in the UK as part of its additive-manufacturing plans to serve aerospace, automotive and other industries, going by a report.
By using artificial intelligence and inputs from customers, the unit will make customisable car parts, among other things, said automobile news portal Autocar.
Also, in the latest indication that Indian companies are embracing additive manufacturing to drive industrial processes, IT services firm Wipro has opened a new metal 3D-printing centre in Bengaluru.

Wipro said the 3D-printing centre, which is spread over 12,000 square feet, can do research, characterisation, validation and more.
Recently, 3D-printing was also shown to be useful in creating dental products. In February, Minneapolis-based additive manufacturing firm Stratasys Ltd showcased three 3D-printing solutions aimed at boosting production at dental and orthodontic labs through techniques including use of multiple materials on a single tray.
"Multi-material 3D printing pushes the boundaries of what's possible in dentistry today, while unlocking the next-generation of applications for tomorrow," said Mike Gaisford, director of healthcare solutions at Stratasys.

The company said its Objet260 Dental 3D Printer, which allows printing of three different materials on a single tray, can make surgical guides, models, and appliances for a variety of patient requirements.
In single-material mode, users gain production efficiency and reduced material waste. "The product's affordability is ideal for mid-sized labs looking to expand service offerings, while not impacting versatility," the firm said. Objet260 can be upgraded to adopt next-generation digitally-mixed materials.
---