London-headquartered data and analytics company GlobalData said that robotics witnessed more interest from investors compared to other emerging technologies in 2017.
Though artificial intelligence was ahead of all technologies in terms of volume, robotics had the edge in terms of investors-to-idea ratio – number of venture capital investors/number of funded companies/ideas.
"Among all the emerging tech companies globally, those working on robotics have witnessed the highest investor interest with a significant 2.93 investors-to-idea ratio," GlobalData said in a statement.
The rise in interest for robotics is also supported by the average deal value recorded in this segment with $28 million, compared to AI's $18 million, it added.
The report, quite unexpectedly, also shows that blockchain technology witnessed the lowest investor interest and the lowest average deal value at 2.23 investors-to-idea ratio and $12 million, respectively, among all technologies.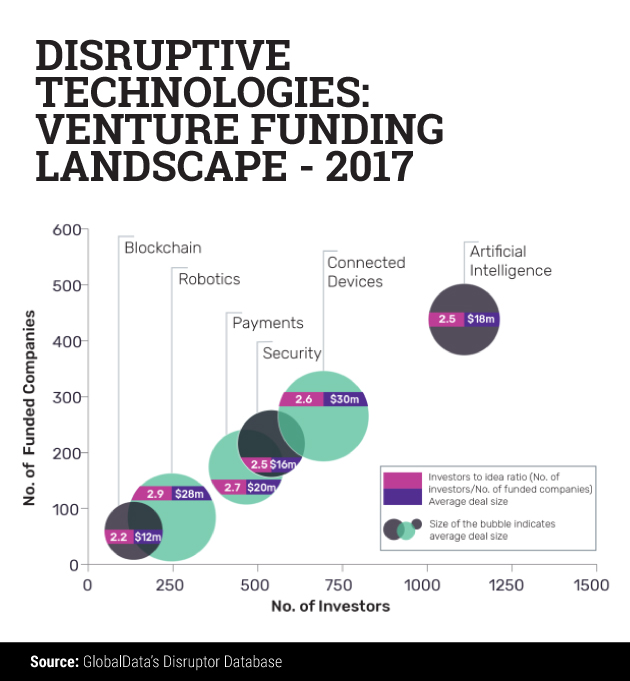 Internet of things topped the average deal value chart with $29.5 million, but came third in terms of interest with 2.62 investors-to-idea ratio.
In India, interest in emerging technologies have been growing. A few projects have already been signed and some are at the proof-of-concept level. The interest in AI and blockchain spiked after Union finance minister Arun Jaitley during his 2018 Budget speech said that the country will be focusing its efforts in implementing the new technologies to solve issues in healthcare, education and finance.
"Global economy is transforming into a digital economy thanks to the development of cutting-edge technologies in the digital space – machine learning, artificial intelligence, internet of things, 3D printing and the likes," Jaitley had said.
He also said that NITI Aayog will initiate a national programme to direct the government's efforts in the area of artificial intelligence. The Department of Science and Technology will also launch a Cyber Physical Systems Mission to establish centres of excellence to train people in robotics, AI, digital manufacturing, big data analytics, quantum communication and Internet of Things.
On the blockchain side, Jaitley had said that the Centre will explore the use of the blockchain technology proactively for ushering in a digital economy.
---