Can home services marketplaces UrbanClap and HouseJoy defy the odds?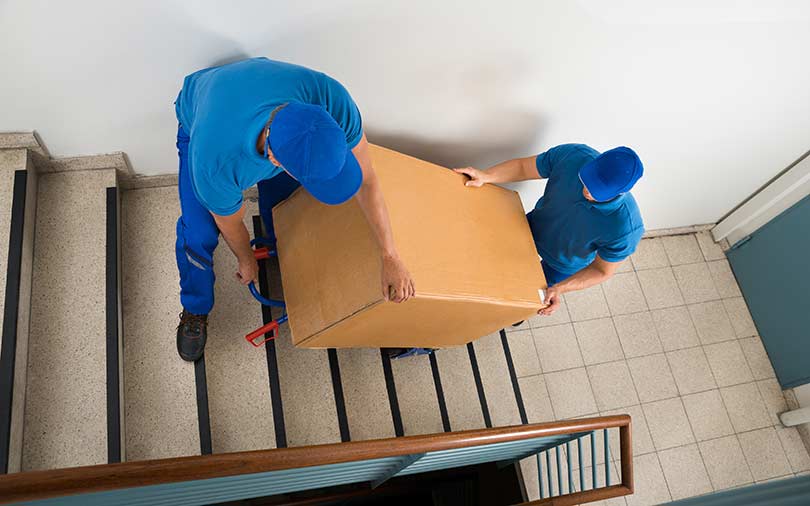 Between 2013 and 2015, a number of startups set up shop in India to operate marketplaces that provided a range of home services. These startups attracted funding from investors looking to bet on new ideas and businesses. Then, the consolidation began.
Some startups shut down or pivoted, some were acquired by bigger companies. But two companies have, so far at least, defied the odds.
UrbanClap and Housejoy are the most-funded marketplaces for home services such as plumbing, electrical work, computer services, laundry and even bridal make-up. Both count a number of venture capital firms and prominent individuals among their investors.

How have the two companies performed in recent years? More importantly, can they succeed when many of their peers failed?
"They are organising an unorganised sector where there are no intermediaries," says Anup Jain, managing partner at consumer and retail research firm Redback Advisory Services. "They are solving the asymmetry in the information that exists both in demand and the supply side. As a concept, this industry has every reason to be here."
Both UrbanClap and Housejoy have a larger common rival, Quikr, which has acquired a number of home services startups over the past couple of years. But they themselves have acquired smaller rivals.

In 2016, UrbanClap bought Delhi-based concierge services provider GoodService Labs Pvt. Ltd while Housejoy acquired at-home personal fitness tech startup Orobind Fitness Technologies Pvt Ltd and on-demand laundry services provider MyWash.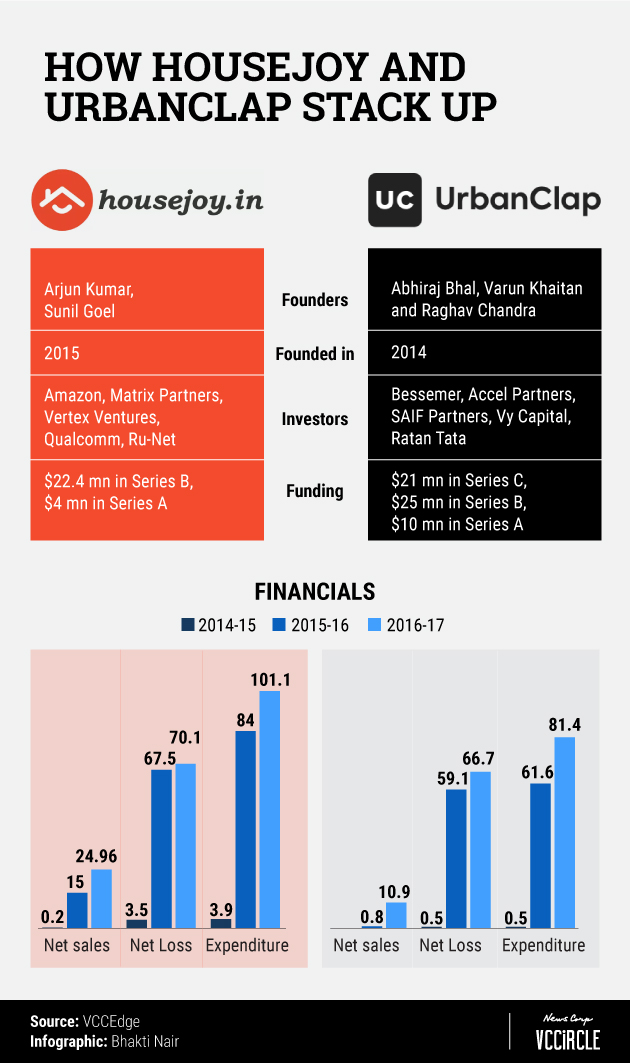 Housejoy, operated by Bengaluru-based Sarvaloka Services On Call Pvt. Ltd, is the bigger of the two by revenue. The company was launched in January 2015 and operates in 13 cities. Delhi-based UrbanClap Technologies India Pvt. Ltd was founded in 2014 and operates in eight cities.
Both companies refused to comment for this article. A look at the companies' financials, sourced via VCCEdge, the data research platform of VCCircle, shows their sales have grown rapidly, but so have their costs and losses.

Housejoy's breakout year was 2015-16, when its revenue soared multi-fold; UrbanClap recorded a similar surge the following year. For 2016-17, the most recent year for which the financials are available, Housejoy's net sales grew 66% in 2016-17 to Rs 24.9 crore from Rs 15 crore the year before.
UrbanClap reported net sales of Rs 10.9 crores for 2016-17, up from Rs 0.8 crore the year before.
Both the companies burnt a considerable amount of cash in 2015-16 and 2016-17; they could perhaps afford it as they raised millions of dollars from investors. Housejoy has raised at least $27 million from investors including online retailer Amazon, Vertex Ventures, Qualcomm, Ru-Net Technology Partners and Matrix Partners. UrbanClap has mopped up around $55 million from investors including VC firms Accel Partners, SAIF Partners, Bessemer Venture Partners and Vy Capital, and individuals like Ratan Tata.

"The cost of customer acquisition is high. The cost of operations is extremely high. So, the effort to bring in new customers and to keep them is also significantly high. That is the weak link," says Sanchit Vir Gogia, founder and chief executive of Greyhound Research.
Both companies recorded heavy operating as well as net losses for 2015-16 as well as 2016-17, as expenses shot up. There is a silver lining, though. The pace of increase in costs slowed sharply in 2016-17. UrbanClap's total expenditure climbed 32% and Housejoy's 20%. This compares with an increase in expenses of 20 times for Housejoy and 120 times for UrbanClap in 2015-16.
The slowdown in expenses growth helped control the losses. Net loss for both companies had jumped multi-fold in 2015-16. For 2016-17, UrbanClap's net loss widened to Rs 66.7 crore from Rs 59.1 crore while that of Housejoy expanded to Rs 70.1 crore from Rs 67.5 crore the year before.

To be sure, the numbers for 2016-17 don't give the most accurate picture of the two companies' health. Based on their performance in 2017-18, their financial health may have even worsened.
Housejoy may have already spent the Rs 150 crore it raised in December 2015 from investors led by Amazon. In an indication that all was not well at Housejoy, its founders reportedly quit the startup last year. The company is now led by CEO Saran Chatterjee, a former Flipkart executive who was hired in 2015.
The company, however, benefits from having Amazon as an investor. The e-commerce giant has been rapidly expanding in India and has a services marketplace in the US, so the possibility of greater integration between Amazon and Housejoy can't be ruled out.

UrbanClap, on the other hand, may have a longer runway. In June 2017, it raised $21 million from Vy Capital and others. But that may not be enough in the long run. In October last year, UrbanClap was reported to be on the radar of Amazon's main Indian rival, Flipkart.
If a transaction does go through, the rivalry between UrbanClap and Housejoy is likely to continue. Just on different platforms—Amazon and Flipkart.
Greyhound's Gogia says these startups are slightly ahead of the times, but their scalability is doubtful. "The services business is highly unstructured. If it is offered as part of, let us say, Flipkart or Amazon, then the trust factor is there," he says. "But as a standalone destination for local services, it is hard to get that trust."
---